No Water in Visitor Center Courtyard

Portable toilets are available next to the visitor center on the side nearest the river. Restrooms with running water are available near the lower parking lot. More »
Things To Do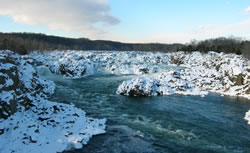 Nearly a half million people come to Great Falls Park each year. The park offers many recreational opportunities, from a picnic with family and friends, to a hike along the Potomac River. This section will highlight the many activities available here.
Safety is an important consideration at Great Falls. Remember that swimming and wading in the Potomac are prohibited. Use caution while hiking near the river and cliffs.


Did You Know?

Even though it may be a hot day, remember that swimming is not allowed in Great Falls Park. The Potomac River is fast, with dangerous currents, and is never safe for swimming. More...