Trash Free Park

Great Falls Park is now a trash free park. Trash cans have been removed. Please come prepared to carry your trash out with you. More »
River Safety

Learn more about how to stay safe around the Potomac. The Potomac has dangerous currents and going into the river is not permitted. Swimming and wading could cost you your life. Stay safe. Stay out of the river. More »
No Water in Visitor Center Courtyard

Due to plumbing problems, there are no bathrooms available in the Visitor Center (VC) courtyard. There are portajohns behind the Snackbar for public use. *Please note: Restrooms near the lower parking lot are fully operational.
Weekend and Holiday Delays for Entry

Saturdays, Sundays, and holidays when there is a good weather forecast, expect delays of up to an hour from Noon to 4pm when entering the park.
Viewing the Falls
Three overlooks give different views of the Great Falls. All are within a five to ten minute walk from the Visitor Center. Access to the Falls is by walking only. Overlooks 2 and 3 are handicap and stroller accessible. For your safety, do not climb or go beyond the fences. Swimming and wading are not permitted anywhere within Great Falls Park.

---
National Park Service
Overlook 1
This overlook is located to the left of the south end of the Visitor Center. It is the closest you can get to the Falls themselves. A short trail leads down to a dirt viewing platform. The rest of the overlook is rocky and will require some easy climbing. Do not go beyond the fences. Falls from this area can cause serious injury or death.
Overlook 1 is not handicap accessible.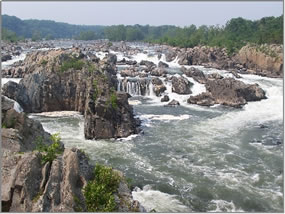 National Park Service
---
Overlook 2
This overlook is located further down the trail. Most of the waterfall can be seen from this overlook. Take a left on the small wooden footbridge by the Patowmack Canal wayside. A staircase and ramp leads down to a large wooden viewing platform.
This overlook is handicap accessible.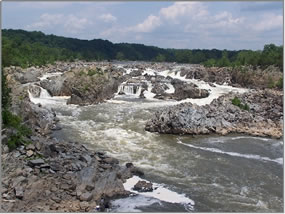 National Park Service
---
Overlook 3
Follow the trail that goes past Overlook 2 across the second small wooden footbridge. On your left, you will see the High Water Marks pole, with markers showing how high the floods reached. Two viewing platforms provide the best view of Great Falls. This overlook is the last place that the Falls can be viewed.
Overlook 3 is handicap accessible.

---
The overlook that you see across the river in Maryland is located within C&O Canal National Historical Park. No bridges connect Great Falls Park with C&O Canal. If you would like to see the falls from the Maryland side, it will be necessary to drive.
Visit their website
for visitor information and directions.
Did You Know?

Rapid snow melts and heavy rains have caused floods at Great Falls Park. Floods have helped to create the unique natural environment in the park. They are one of the reasons why several rare plant communities exist here.