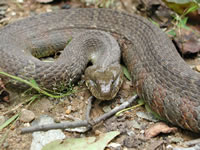 National Park Service
Northern water snakes, like the one in the photo to the right, are often seen around the Potomac. They are often confused with the venomous cottonmouth, which is not found in Great Falls Park. Water snakes prey on fish, frogs, and salamanders. They will defend themselves aggressively if disturbed, by striking at whatever threatens them and releasing a foul smelling liquid to discourage predators.
Black rat snakes are one of the most commonly observed species in Great Falls. They can reach a length of over six feet, and are capable of climbing trees. Their main prey is rodents.
Northern brown snakes and rough green snakes are two of the most difficult species to spot in the wild at Great Falls. The brown snakes are reclusive, and prefer the damp environments found along the River Trail and in the swampy habitats in the park. Brown snakes reach a maximum of 13 inches in length. Rough green snakes are slightly larger, ranging from 7-32 inches in length, and slender. These snakes are excellent climbers, and use their light green color to blend in with shrubs and trees while they hunt for insects.
---
Remember that all snakes are protected in Great Falls Park. Disturbing, harming, or killing a snake is prohibited within park boundaries. Snakes prefer to leave people alone as long as they are not bothered themselves, and given the chance, will slither away on their own.