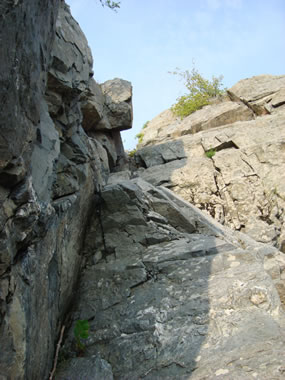 National Park Service
Diagonal cracks and fractures in the rock along Mather Gorge are indications of past movement along fault lines. The force of the Potomac has eroded along these weakened areas, changing the river's course to its current position and forming the falls and Mather Gorge.
Glaciers did not reach this far south during the last ice age. However, the colder temperatures during that time period brought larger amounts of snow and ice to the Potomac region. The resulting floods eroded deeply into the rocks and carried boulders far from their places of origin. Mather Gorge formed as the Potomac eroded into fractured rocks along a fault line.
Today, the Potomac continues to erode the Gorge. However, geological change is very slow here because of the erosion resistant rocks, and cannot be measured in a single human lifetime. The views George Washington observed when he came to Great Falls during the construction of the canal were nearly identical to what visitors see today.