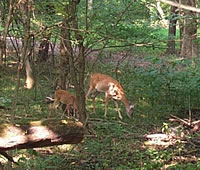 National Park Service
A variety of animals can be found in Great Falls Park. The park's 800 acres include forests, swamplands, open meadows, a pond, clifftop areas, streams, and the Potomac River. These features give the park's animals everything they need to survive here.
All wildlife is protected in the park. Observe animals from a distance, and do not feed or attempt to touch an animal. If you see an animal acting strangely, contact a park ranger.