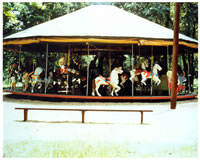 ---
The Stein & Goldstein
Having a carousel at Great Falls was not something that people wanted to give up. It was so popular that after the removal of the first carousel, people began asking the county to bring in another. In 1953, a replacement carousel was found by T.W.and Josie Wells. This carousel, a 1912 Stein & Goldstein, was located in Rhode Island. After purchasing it, the Wellses had it sent from its original park in Providence to Great Falls.
When it opened, it quickly became a favorite activity for park visitors. The carousel itself featured horses, a reindeer, a billy goat, and a camel. Riders could pick from either stationary or moving animals, or enjoy a ride in one of the carousel's chariots. A favorite part of the ride was trying to catch a brass ring, which would earn the rider a free trip on the carousel.

In 1965, Fairfax County and the power company made an agreement to turn the land at Great Falls over to the National Park Service. During the transition, there were discussions about removing the carousel from the park. Another letter writing campaign from loyal riders ensured that the National Park Service would keep the carousel at Great Falls.
However, the carousel was unable to survive mother nature. In June of 1972, Hurricane Agnes caused a flood at the park. The carousel and many of the animals were heavily damaged by floodwaters. After learning that the cost of repair was more than the carousel was worth, the decision was made to dismantle it.
Some of the carousel horses did survive the flood, and were sold into private collections. They are all that remains of the last carousel at Great Falls.