Scout Loop Reservations
Campground A Loop is a Scout Loop.
All Scout Troops are required to call 301-344-3948 and reserve space in the Scout Loop portion of the campground throughout the year.
The Scout rate is $ 16.00 per site.
The payment must be made at the time of arrival. Complete a self registration envelope and place in the overnight deposit box located along the roadway next to the main bulletin board.

Scouts must have a tour permit and proof of insurance.
Please have the United States of America listed as the co-insurer of the time they are here at the campground.

Reservations are taken over the phone by calling 301-344-3948. Reservations cannot be made by email or the website.
We would appreciate that if you cannot make your scheduled weekend that you call the Park Headquarters.

All campground rules are in effect for the A Loop as well.

Please pick up a copy of the campground rules and regulations and share them with your troop.

Here are some of the guidelines for the campground:
3 tents, 6 people and 2 vehicles are the maximum for each site.
No attachments to the trees including clotheslines.
Please contain all fires in the grills and completely put them out before leaving the site.
Keep the bathroom clean and report any damage to the ranger or host.
Apply the Leave No Trace principles to the campground.

Please help us preserve the campground for future Scout troops and future generations.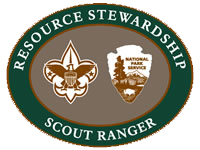 The park also has service projects if your troop wants to contribute to the park.
An hour or two can help preserve this park for this and future generations.
Your troop can also earn a Scout Ranger certificate or Scout Ranger patch.
Click on the following link for details.