Greenbelt Ranger Station near the campground closed until Further Notice

The Greenbelt Ranger Station near the campground is Closed until further notice. The Greenbelt Park Headquarters will be open seven days a week from 8:00 a.m. - 3:45 p.m. Visitors to the campground can stop by the Park Headquarters for assistance.
Deer Alert

Deer are in abundance throughout the park. Staff has seen many deer eating acorns along Park Central Road. Please use extreme caution and look out for deer at all times. Please do not feed the deer. This park is their home and have plenty to eat.
Greenbelt Park Campground Reservations for June 2012 100th Anniversary of Girl Scouts at the Sing-Along on the National Mall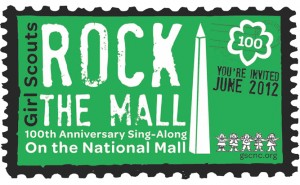 Girl Scouts of America
The Greenbelt Park Campground is getting ready to host many Girl Scouts on your special weekend! The sing along is scheduled for Saturday June 9, 2012.
The park has blocked off this special weekend on the official reservation system.
All Girl Scout Troops are required to call 301-344-3948 to reserve space in the campground.
The Scout rate is $ 16.00 per site.

The payment will be made at the time of arrival.

Reservations cannot be made by email or the website.

We would appreciate that if you cannot make it, you call back and cancel your reservation so that we may fill as many Girl Scouts in the campground.

Please pick up a copy of the campground rules and regulations and share them with your troop.

Here are some of the guidelines for the campground:
3 tents, 6 people and 2 vehicles are the maximum for each site.
No attachments to the trees including clotheslines.
Please contain all fires in the grills and completely put them out before leaving the site.
Keep the bathroom clean and report any damage to the ranger or host.
Apply the Leave No Trace principles to the campground.

Please help us preserve the campground for future Scout troops and future generations.
Link to the Girl Scouts Rock the Mall website
Did You Know?
Greenbelt Park, Maryland does not have an entrance fee allowing visitors to enjoy this National Park free of charge. There is a user fee for the campground.