Warm Days and Cool Nights through Friday

Expect breezy southwest winds this weekend as a cold front moves towards the region. More »
Bat Tests Positive for Rabies in Grand Canyon National Park

Public Health Alert, October 2014: A bat recently removed from an area along the Colorado River within Grand Canyon National Park has tested positive for rabies. Any persons having physical contact with bats in the park, please follow this link. More »
Permits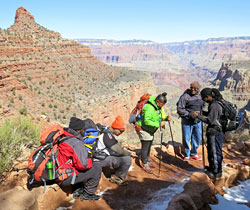 Backcountry Permits
Backcountry Permits are required for:
overnight hiking

overnight horseback riding
overnight cross-country ski trips
off-river overnight hikes by river trip members
overnight camping at rim sites other than developed campgrounds
overnight camping on the North Rim during the winter season Read more...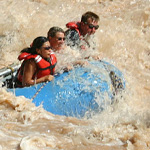 NPS: Mark Lellouch
Non-commercial Colorado River Trip Permits
River Permits are required for all non-commercial (private) river trips.
Permits for 2-5 Day Trips that launch from Diamond Creek are available to the public starting 1 year in advance and are distributed on a first-come first-serve basis.

Permits for 12-25 Day Trips that launch from Lees Ferry are made available to the public through a WEIGHTED LOTTERY. Read more...
---
Special Use Permits
Grand Canyon National Park is home to many beautiful landscapes which make it a popular place for weddings and special events.

Visit this page to learn how to schedule facilities, weddings, special events, First Amendment activities,
and to obtain a permit for the scattering of cremation ashes.
---
Filming/ Photography Permits
Generally filming permits are required and are issued for photography, filming, and associated sound recording when they involve props, models, professional crews, and casts or set dressings.

Permits are issued to ensure the protection of resources and to prevent significant disruption of normal visitor uses. Permits are also required for access to areas normally closed to the visiting public.
Read more....
---
Scientific Research Permits
All studies in Grand Canyon National Park, large or small, must have their own Research & Collecting Permit which is obtained through a proposal and review process that requires approximately 90 days. More...

---
Commercial Use Authorizations (for Tour Operators)
A
Commercial Use Authorization (CUA)
is a permit that authorizes suitable commercial services for park visitors within Grand Canyon National Park. The term of a CUA may not exceed 2 years and no preferential right of renewal or similar provisions for renewal may be provided.
Grand Canyon National Park authorizes a variety of commercial services: transportation/ motor tours, bicycle tours, guided hikes and overnight backpacking and equipment rental/ delivery.
Visit this link
to learn more...
---
For
River Concessioners


Commercial River Operating Plan
(284 kb PDF File - Updated January 2012)
Commercial River Operating Requirements
(1.08 MB PDF File - Updated March 2014)
Quick links to information about:


Did You Know?

There are approximately 1,737 known species of vascular plants, 167 species of fungi, 64 species of moss and 195 species of lichen found in Grand Canyon National Park. This variety is largely due to the 6,000 foot elevation change from the river up to the highest point on the North Rim. More...