Overnight Hiking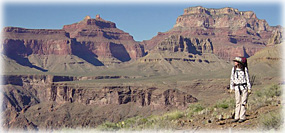 Overnight backpacking in Grand Canyon provides a degree of solitude, wilderness, and silence. Fifteen trails and numerous obscure routes provide access to the inner canyon.

If you wish to camp anywhere in the park, other than in developed campgrounds on the North Rim or South Rim you must obtain a permit from the Backcountry Information Center.

Each year Grand Canyon National Park receives approximately 30,000 requests for backcountry permits. The park issues 13,000 permits, and close to 40,000 people camp overnight in the backcountry at Grand Canyon.
If you would like to join a guided hiking and/or camping trip that is educational in nature, consider
the Grand Canyon Field Institute. They offer fun and informative educational classes and tours for everyone, from seasoned backpackers to families with children on their first visit to Grand Canyon.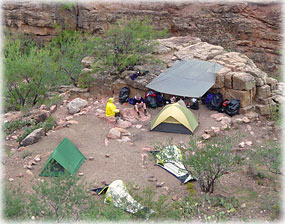 The earlier you plan your hike and apply for permits, the more likely you will be to get the dates and itinerary of your choice. The earliest you can apply for a permit is the first of the month, four months prior to the proposed start month.
Only written permit requests are considered during the fourth-month-out. Verbal in-person permit requests are only considered for start dates one to three months out.

You will be hiking in a desert climate, where water and protection from the elements make the difference between life and death. Your trip begins at a high elevation (7000-8000 feet) and requires a bone-jarring descent at the beginning of your trip, when your pack is heaviest. You will face a long climb out when you are already tired.
Grand Canyon National Park encompasses more than 1.2 million acres, the vast majority of the park is inaccessible due to the predominance of cliffs, and inhospitable to all but desert plants and animals. The Colorado River bisects the canyon; hikers can cross the river only at Phantom Ranch. If you choose to hike from rim to river to rim, you will have to deal with an elevation differential of more than 10,000 feet from start to finish.
Despite the fact that canyon hiking is extremely demanding, requests for backcountry permits far exceed the use that the canyon's fragile desert environment can sustain without serious resource damage. Therefore, overnight camping in the canyon and in undeveloped areas along the rim is carefully monitored and controlled, and demand usually exceeds availability.
The Grand Canyon Association sells maps and guides on hiking in Grand Canyon National Park.

Backcountry Use Statistics
Backcountry use statistics (from overnight backcountry permits) can be found here. The statistics include:

use trends (1998-2009) by year and month

backcountry use breakdown by country and state
permits issued to Grand Canyon Field Institute, Boy Scouts, and CUAs
backcountry use by use area
Backcountry Information Center
The South Rim Backcountry Information Center is open daily year-round for walk-in visitors from 8 am to noon and 1-5 pm Mountain Standard Time. The North Rim Backcountry Information Center is open daily mid-May to October 31 for walk-in visitors from 8 am to noon and 1-5 pm Mountain Standard Time.
Backcountry Information Center staff answer information telephone inquiries at 928-638-7875 between 8 am and 5 pm Monday through Friday, except on federal holidays. This telephone number is for information only.
Email the Backcountry Information Center.
FAX number for permits is 928-638-2125
you can send a fax 24 hours a day, 7 days a week, 365 days a year - HOWEVER the first day of every month we receive many faxes and the number may be busy
Mailing address is:
Grand Canyon National Park
Permits Office
1824 S. Thompson St., Suite 201
Flagstaff AZ, 86001
Backcountry Permit Request Form (PDF file) NOTE: This is a printable form only. You must print the form, fill it out, and then fax/mail it directly to the Backcountry Information Center. We recommend you read the seasonal update before submitting your permit request.
PDF Form Issues? If you are using a web browser to view and use our PDF forms, you may experience issues where the PDF does not function correctly. Some web browsers do not automatically open PDFs using the Acrobat Reader application. Using a different PDF viewer in a web browser can cause the form to malfunction.To fix issues with our PDF forms you have two options. 1. You can select the Acrobat Reader plug-in for your browser's default application for viewing PDFs. Or 2. You can right click and save the PDF document to your desktop and then open it with the Adobe Reader application. Get the newest version of the free Adobe Reader.
Trip Planner (2mb PDF file): The information in this newspaper can assist you in obtaining a backcountry use permit.
Video: Hiking Grand Canyon, Prepare for Backpacking. This video is designed to help you plan for and enjoy your hike into the canyon's harsh, yet fragile, environment.
Video: Leave No Trace. All Grand Canyon backcountry users are asked to follow Leave No Trace principles. The goal is to have minimum human impact on the canyon as a result of your trip.
Hike Smart: Be sure and listen to the Hike Smart Podcasts! (transcripts available)
The Grand Canyon Association sells maps and guides on hiking in Grand Canyon National Park.