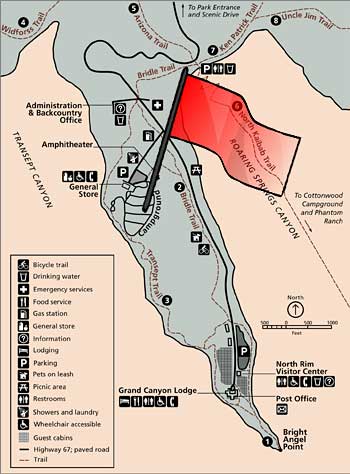 2015 Campground Season:
May 15th Through October 31, 2015


Note: from October 16 to October 31, there will be minimal services and depending on the weather, there may be no running water in the campground. Composting toilets will be available during this time.
This page has information about "developed" campgrounds. (where vehicles are permitted)
For information about backpacking and camping within the canyon, visit this link.

Camping in the park on the North Rim is restricted to the established campground.

Camping fees are in addition to entrance fees, and are charged per night.

Campsite Reservations are required.

Campsite reservations fill up fast; make reservations as far in advance as you can.




Campground Reservations:
On the North Rim, campground reservations can be made for the North Rim Campground.
Reservations can be made through the
National Recreation Reservation Service
by calling 1-877-444-6777
or online at http://www.recreation.gov/
Reservations can be made up to 6 months in advance.


---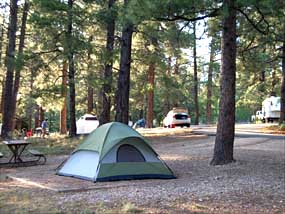 Grand Canyon National Park Photo
NPS North Rim Campground
36°12'38"N - 112°03'36"W (8.316 ft/ 2,535 m)
Reservations: May 15 through October 31, 2015.
Operated by the National Park Service.

No hook-ups, however,
there is a dump station within the campground.
Offers tent and RV camping
Accessible campsites and restrooms are available.
Pets are allowed, but must be leashed at all times, and may not be left unattended. Pets are only allowed on the Bridle Path. There is no kennel on the North Rim.
Wood and charcoal fires are only permitted in provided campsite grills.
No gathering of down wood - wood may be purchased at the general store.
A coin operated laundry and showers, operated by Forever Resorts, are located at the entrance to the campground.

Reservations may be made through the National Recreation Reservation Service by calling
1-877-444-6777 or online at http://www.recreation.gov/
It is best to make reservations because the North Rim Campground fills most days.

Fees are $18-$25 per site per night. A maximum of 2 vehicles, 6 people, 3 tents are allowed per site. (A vehicle, which is towing a trailer, pop-up, tent trailer, fifth wheel, or a motor home pulling a vehicle, is considered two vehicles.)

Golden Age or Access passport holders pay only ½ price year round (passport number is needed when making reservation and passport holder must be camping at the site).

Hiker/biker communal (shared) sites are available during the season - inquire at the campground kiosk office.

Group sites are also available, $50/night, maximum of 25 people and 3 vehicles allowed per group site. Passes may not be used with group sites.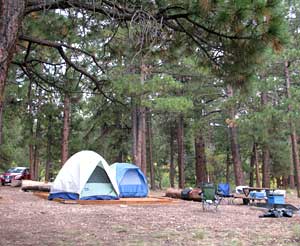 grand canyon national park photo
Winter Camping on the North Rim
?


During the winter months (between November 1 and May 15) backpackers, snowshoers, and cross-country skiers are permitted to use the North Rim Campground's group campsite, provided a backcountry use permit has been obtained in advance. – These permits are available through the South Rim Backcountry Information Center, and at the Visitor Center at Pipe Spring National Monument located in Fredonia, Arizona.

Note: the highway into the park is closed during the winter, so there is no winter car or vehicle camping. Also, personal snowmobiles are not permitted within the park.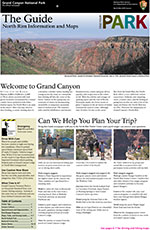 Park  Newspaper
Download the
2015 Season (English)
May 15 through October 15, 2015.

North Rim Guide (letter-size)
Pages split to print on 8.5 x 11" paper.
(4.3 MB PDF File)
North Rim Guide (tabloid size)
Prints on 11 x 17" paper
(2.2 MB PDF File)
The 2015 edition of the North Rim Guide contains the maps, schedules and information needed to plan your visit.
The North Rim has a short season, so it is best to reserve
lodging
and
campsites
as far ahead as possible.
Download
Maps and Trail Guide
as
one large page
22.5 x 17" (467 kb PDF)
---
Outside The Park Camping - North Rim


DeMotte Campground
Operated by the U.S. Forest Service. 16 miles/ 28km north of the canyon rim. No hookups. 1/2 of sites may be reserved through www.recreation.gov. Generally open May 15 through October 15. for overnight camping, depending on snowfall. $18 for the first vehicle, $8 for the second, per site.

Jacob Lake Campground
Operated by the U.S. Forest Service, 45 miles/75 km north of the North Rim, during the summer only, no hookups or reservations. $18 per per night for first vehicle; second vehicle $8.00 Free evening programs.

Dispersed Camping
Is permitted in the national forest outside the park; there are restrictions, however. Inquire at North Rim Visitor Center inside park, or at Kaibab Plateau Visitor Center at Jacob Lake (928) 643-7298. In winter contact the North Kaibab Ranger District, Kaibab National Forest, P.O. Box 248, Fredonia, AZ 86022 or call (928) 643-7395.
Kaibab Camper Village (Jacob Lake)
Commercial campground located ¼ mile/0.5 km south of Jacob Lake on Arizona Highway 67. Full hook-ups available. Phone (928) 643-7804 May 15 through October 15. Off-season phone (928) 526-0924, outside AZ 1-800-525-0924.
---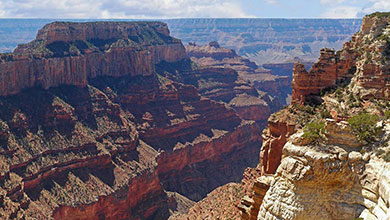 Quick links to information about: