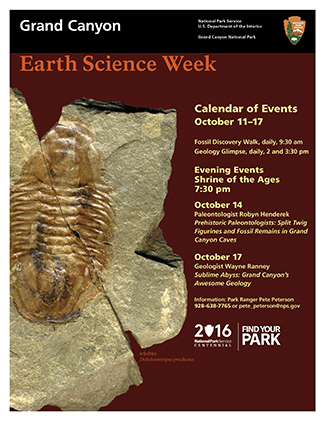 Earth Science Week
Calendar of Events
October 11–17
Fossil Discovery Walk, daily, 9:30 am
Geology Glimpse, daily, 2 and 3:30 pm
Evening Events
Shrine of the Ages
7:30 pm
October 14
Paleontologist Robyn Henderek
Prehistoric Paleontologists: Split Twig Figurines and Fossil Remains in Grand Canyon Caves
October 17
Geologist Wayne Ranney
Sublime Abyss: Grand Canyon's Awesome Geology
Information: Park Ranger Pete Peterson 928-638-7765 or pete_peterson@nps.gov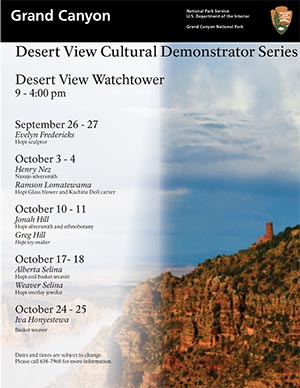 2015 Cultural Demonstration Series
Desert View Watchtower
9 am–4 pm

September 26–27
Evelyn Fredericks, Hopi sculptor
October 3–4
Henry Nez, Navajo silversmith
Ramson Lomatewama, Hopi Glass blower and Kachina Doll carver

October 10–11
Jonah Hill, Hopi silversmith and ethnobotany
Greg Hill, Hopi toy maker

October 17–18
Alberta Selina, Hopi coil basket weaver
Weaver Selina, Hopi overlay jeweler

October 24–25
Iva Honyestewa, Basket weaver

Dates and times are subject to change.
Please call 638-7968 for more information.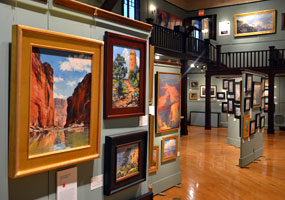 2015 Grand Canyon Celebration of Art
September 12, 2015 - January 18, 2016

Hosted each year by the Grand Canyon Association, the Grand Canyon Celebration of Art is an annual event that includes 6 days of art related events followed by a 3 month long exhibition in Kolb Studio on the South Rim of Grand Canyon National Park.

The Celebration of Art will feature over 25 artists from around the country who will engage in a plein air competition and exhibition.

Park visitors and residents will have the opportunity to watch the artists paint as they seek to represent the shifting light and shadow, amazing land forms, and vibrant colors of this vast landscape.

Each artist brings a completed studio piece with them and then spends a number of days creating more artwork on the South Rim, on the North Rim, at Phantom Ranch and at Indian Garden during the Plein Air at the Canyon Event.

At the end of the week, on Saturday, September 19, 2015, the Quick Draw Event takes place in the historic district of Grand Canyon Village. During the auction that immediately follows the Quick Draw event, park residents and visitors will have the opportunity to bid on the paintings that they watched being created that morning, and to bring a piece of Grand Canyon home.

The exhibit will open with a reception on Sunday, September 20, 2015 from 12 noon to 2 pm, which was free and open to the public.

Proceeds from this event support the goal of funding an art venue at the South Rim of the Grand Canyon. This permanent home will ensure that future generations of park visitors will be able to view the stunning art collection in the Grand Canyon National Park Museum and Grand Canyon Association Collections.

For more information about the 2015 Celebration of Art visit:
https://www.grandcanyon.org/arts-and-culture/2015-celebration-art

Loading the player...

Plein Air Painting at Grand Canyon

Each September, a group of artists gather at Grand Canyon National Park for the Celebration of Art presented by Grand Canyon Association. Proceeds from the event go toward a fund to establish a permanent art venue at Grand Canyon. Visitors may watch and learn from the Plein Air painters. (Video from Grand Canyon a Journey of Wonder)

Duration:

1 minute, 21 seconds

Credit / Author:

Grand Canyon NP

Date created:

2015-08-16