Expect a Good Chance of Showers and Thunderstorms Through the Week.

Monsoonal weather patterns have moved into the Grand Canyon area decreasing fire danger. As a result, on Tuesday, July 8 at 8 a.m. fire managers lifted fire restrictions within Grand Canyon National Park. More »
Two Bats Collected in the Park Have Tested Positive for Rabies

One on the North Kaibab Trail and the other at Tusayan Ruin/Museum. Rabies can be prevented if appropriate medical care is given following an exposure. Any persons having physical contact with bats in Grand Canyon National Park, please follow this link. More »
Special Event Calendar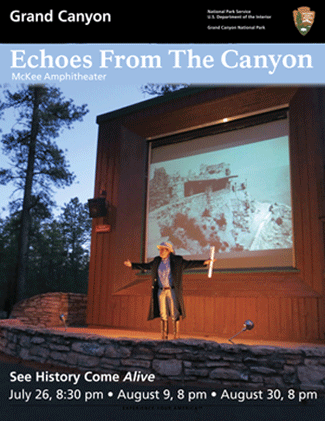 Echoes from the Canyon
Watch historical figures from Grand Canyon's past come to life with stories about their families, adventures, discoveries, and efforts to survive in this remote location.
July 26
8:30 pm
Mckee Amphitheter
August 9
8 pm
Mckee Amphitheter
August 30
8 pm
Mckee Amphitheter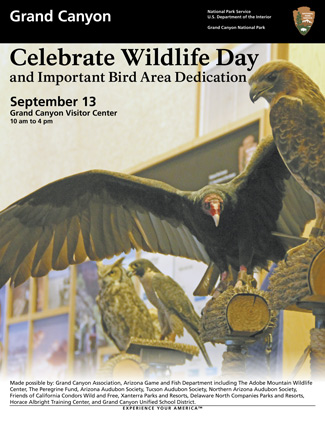 Celebrate Wildlife Day
and Important Bird Area Dedication
September 13
Grand Canyon Visitor Center Plaza

10 am to 4 pm
Enjoy a fun and educational day full of activities celebrating Grand Canyon National Park's wildlife
and celebration of the designation as a Globally Important Bird Area. (
More
)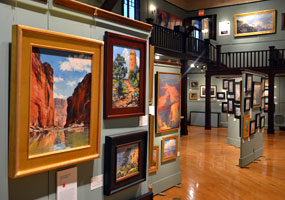 2014 Grand Canyon Celebration of Art
September 13, 2014 - January 20, 2015

Hosted each year by the Grand Canyon Association, the Grand Canyon Celebration of Art is an annual event that includes 6 days of art related events followed by a 3 month long exhibition in Kolb Studio on the South Rim of Grand Canyon National Park.

The exhibit opens with a reception on Sunday, September 21, 2014 from 12 noon to 2 pm, which is free and open to the public.

The Celebration of Art features over 25 artists from around the country who engage in a plein air competition and exhibition. Park visitors have the opportunity to watch the artists paint as they seek to represent the shifting light and shadow, amazing land forms, and vibrant colors of this vast landscape.
Each artist brings a completed studio piece with them and then creates more artwork on the South Rim, on the North Rim, at Phantom Ranch and at Indian Garden during the "Plein Air at the Canyon" and Quick Draw events that takes place in the historic district of Grand Canyon Village. During the auction that follows the Quick Draw event on September 20, 2014, park residents and visitors have the opportunity to bid on the work and to bring a piece of Grand Canyon home.

Proceeds from this event will support the goal of funding an art venue at the South Rim of the Grand Canyon. This permanent home will ensure that future generations of park visitors will be able to view the stunning art collection in the Grand Canyon National Park Museum and Grand Canyon Association Collections.

For more information about the 2014 Celebration of Art contact:
https://www.grandcanyon.org/6th-annual-grand-canyon-celebration-art

Did You Know?

Within the Grand Canyon, the rugged, V-shaped Inner Gorge rises darkly from the Colorado River. The broad shelf above it is the Tonto Platform, which spreads like a green blanket across both sides of the canyon. The Inner Gorge achieves a depth of over 1200 feet (366m)