Mostly cloudy skies, a chance of showers and near normal temperatures Friday and Saturday.

Beginning Sunday, temperatures will increase before another passing weather system causes a period of strong gusty winds Tuesday and Wednesday. (Source NOAA) More »
Special Event Calendar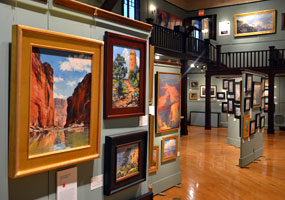 2014 Grand Canyon Celebration of Art
September 13, 2014 - January 20, 2015

Hosted each year by the Grand Canyon Association, the Grand Canyon Celebration of Art is an annual event that includes 6 days of art related events followed by a 3 month long exhibition in Kolb Studio on the South Rim of Grand Canyon National Park.

The exhibit opens with a reception on Sunday, September 21, 2014 from 11 am to 1pm, which is free and open to the public.

The Celebration of Art features over 20 artists from around the country who engage in a plein air competition and exhibition. Park visitors have the opportunity to watch the artists paint as they seek to represent the shifting light and shadow, amazing land forms, and vibrant colors of this vast landscape.
Each artist brings a completed studio piece with them and then creates more artwork on the South Rim, on the North Rim, at Phantom Ranch and at Indian Garden during the "Plein Air at the Canyon" and Quick Draw events that takes place in the historic district of Grand Canyon Village. During the auction that follows the Quick Draw event on September 20, 2014, park residents and visitors have the opportunity to bid on the work and to bring a piece of Grand Canyon home.

Proceeds from this event will support the goal of funding an art venue at the South Rim of the Grand Canyon. This permanent home will ensure that future generations of park visitors will be able to view the stunning art collection in the Grand Canyon National Park Museum and Grand Canyon Association Collections.

For more information about the 2014 Celebration of Art contact:
https://www.grandcanyon.org/6th-annual-grand-canyon-celebration-art

Did You Know?

Within the Grand Canyon, the type and abundance of organisms is directly related to the presence or absence of water. The Colorado River and its tributaries, as well as springs, seeps, stock tanks and ephemeral pools provide oases to flora and fauna in this semi-arid southwest desert area.