Expect Cooler Nights with No Precipitation through the Remainder of the Week

Monsoonal weather patterns have moved into the Grand Canyon area decreasing fire danger. As a result, on Tuesday, July 8 at 8 a.m. fire managers lifted fire restrictions within Grand Canyon National Park. More »
Two Bats Collected in the Park Have Tested Positive for Rabies

One on the North Kaibab Trail and the other at Tusayan Ruin/Museum. Rabies can be prevented if appropriate medical care is given following an exposure. Any persons having physical contact with bats in Grand Canyon National Park, please follow this link. More »
Plan Your Visit

Grand Canyon National Park Announces
Interim Permits
for Organized Groups Conducting
Rim-to-Rim and Extended Day Hiking and Running
.
Learn More >
Trail Courtesy Practices that Leave No Trace
Quick links to information about: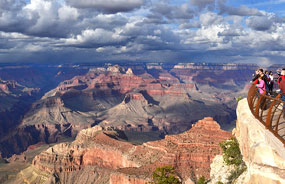 NPS photo by Michael Quinn
Introduction
Nearly five million people see the 1 mile deep (1.6 km) Grand Canyon each year.

Most of them (90%) see it from the park's free shuttle buses or from their car at overlooks along the South Rim.

The South Rim includes: historic Grand Canyon Village, Hermit Road, and Desert View Drive. --- Maps
The South Rim is open all year. ----- Newspaper

The South Rim is the most accessible part of the park.
Elevations average 7000 feet/ 2134 m above sea level. South Rim driving directions.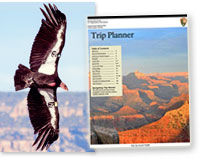 California condor courtesy of Steve Mull
Download our Trip Planning "Newspaper" as a PDF file
HERE
. (Includes information and maps for both rims and the inner canyon.)
A much smaller number of people (10%) see the Canyon from the
North Rim
of the park, which lies just 10 miles / 16 km across the canyon from the South Rim, (as the
California condor
flies) but is a 220 mile/ 354 km drive by car - all the way around the canyon.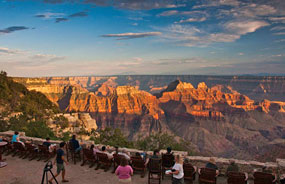 NPS photo by Jessica Pope
The North Rim, Averaging 8000 feet/ 2438 m above sea level, rises 1000 feet/ 305 m higher than the South Rim, and because of its remote location, is much less accessible than the South Rim. The North Rim has a short season. Lodging and restaurants are open from May 15 through October 15 each year. ---- North Rim driving directions

Even in good weather the North Rim is harder to get to. It is 220 miles / 354 km by car from the South Rim, or 21 miles / 34 km by foot across the canyon by way of the North and South Kaibab Trails. -- Maps --- Newspaper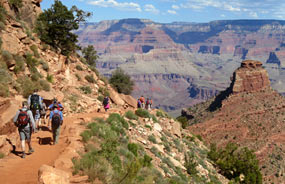 NPS photo by Michael Quinn
The Inner Canyon includes everything below the rim and is seen mainly by hikers, backpackers, mule riders, or river runners. The inner canyon is a harsh desert environment with little shade and summer temperatures over 100°F. (>38°C) How to prepare for an inner canyon trip.

There are many opportunities here for adventurous and hardy persons who want to backpack, ride a mule to Phantom Ranch, or take a river trip through the Canyon on the Colorado River. River trips can take anywhere from several days to three weeks. There are no one-day river trips through the length of Grand Canyon.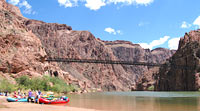 How Do People Get Across the Canyon?

If you are hiking across the canyon, the South Kaibab Trail crosses the Colorado River on a narrow foot bridge 70 feet/ 21 m above the water.

It is a 21 mile/ 34 km hike to go "Rim To Rim," with a vertical descent - followed by a climb - of 1 mile/ 1.6 km. This is an overnight hiking trip for 95% of hikers, especially during the hot summer months.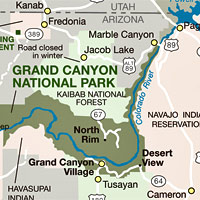 There is only one way to cross the Colorado River by
automobile
, and that is 137 miles / 231 km from the South Rim Village (at Marble Canyon, AZ) via the
Navajo Bridge
, a few miles downstream from
Lees Ferry
, where the Canyon is only 400 feet/ 122 m wide.
There is no longer an airstrip on the North Rim of the park.
That means that the North Rim village may only be reached by driving all the way around - or by hiking across the canyon.
Click on the map to download the

Grand Canyon National Park Area Map
(83kb PDF File)
The Park's Seasonal Newspapers

Park Newspaper
Download the 2014 Autumn (English)
September 2 - November 30, 2014
Autumn South Rim Guide (letter-size)
(Prints on 8.5 x 11" paper 3.5 MB PDF File)

Autumn South Rim Guide (tabloid size)
(Prints on 11 x 17" paper 1.8 MB PDF File)

Contains maps, schedules and information.

South Rim lodging and camping along with most other visitor services within the park are open all year.

Reserve lodging and campsites as far ahead as possible, especially during busy summer and fall months.

Download Autumn South Rim Village Shuttle Bus/ Parking Map
as one large page 22.5 x 17" (1.45 MB PDF file)

---
Park  Newspaper
Download the
2014 Season (English)
Quick links to information about: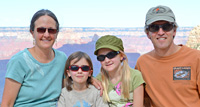 "Traveling Green"
is a great way to help Grand Canyon and other areas you visit reduce carbon emissions, divert and reduce what goes into the waste stream, and to generally help the environment. Visit our Traveling Green page for helpful tips on planning your next green adventure.
Thanks for doing what you can to help protect our environment!
Ron Chapple is working in agreement with Grand Canyon National Park to produce high resolution video and still photographs. For more information on how to obtain copies of his work, visit: http://aerialfilmworks.com

Duration:

3 minutes, 3 seconds

Credit / Author:

Ron Chapple

Date created:

2009-10-05
Did You Know?

In November of 1934, the Grand Canyon Civilian Conservation Corps began working on a telephone line through the canyon. They started at Indian Garden and moved down to the Colorado River. They needed to complete this portion of the line first before the extreme summer heat started. More...