Insider's Look Podcast 13: Oct. 23, 2009
Park Rangers Nicole DeLuca and Patrick Gamman at Grand Canyon Cemetery
Insider's Look at Grand Canyon #13
Park Rangers Nicole DeLuca and Patrick Gamman at Grand Canyon Cemetery
Running Time 05m:47s - Oct. 23, 2009 - Produced by Park Ranger Patrick Gamman
Available Downloads: right-click on link - then select: save target/ file/ link as
mp3 Audiocast
mp4 Video for iPod/ devices
Transcript
5.29MB mp3 file
27.7MB mp4 file
32kb pdf File
Press the play button to start the (Adobe Flash) video above. If the playback is uneven, try pausing the video and waiting for it to load before viewing.
Help with videos...
Cemetery Walk
On Saturday, October 31, at 8:30 p.m. - join us for a who's who of Grand Canyon history during a Halloween full moon walk through the historic Grand Canyon Village Cemetery. The cemetery, located just west of the Shrine of Ages, contains 304+ plots of early pioneers, settlers, veterans, park officials and workers and their immediate family members. Stories from the past bring alive the unique personalities that helped to create the community that we have now.


---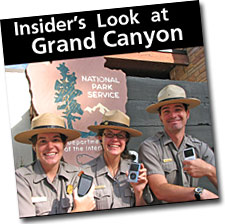 Insider's Look at Grand Canyon Podcast

Delivers periodic audio bulletins and enhanced podcasts about park news and events. Topics include anything and everything about Grand Canyon National Park. Hosted and produced by Park Ranger Patrick Gamman.

iPod users, this program is also available on the iTunes Insider's Look at Grand Canyon Podcast Channel

Podcasts are listed in order of release date, with the most recent on the top of the index page.
---