Insider's Look Podcast 24: Jan. 8, 2010
Ranger Andy Pearce discusses Environmental Education at Grand Canyon
Insider's Look at Grand Canyon #24
Interview with Ranger Andy Pearce about the Environmental Education program at Grand Canyon.
Running Time 07m:16s - Jan. 8, 2010 - Produced by Park Ranger Patrick Gamman
Available Downloads: right-click on link - then select: save target/ file/ link as
mp3
Audiocast
mp4 Video
iPod/ devices
wmv Video
Windows Media
Transcript
6.6 MB mp3 file
15.0 MB mp4 file
15 MB wmv file
25 kb pdf File
Press the play button to start the (Adobe Flash) video above. If the playback is uneven, try pausing the video and waiting for it to load before viewing.
Help with videos...
Check out detailed information about the Environmental Education program at Grand Canyon at the For Teachers pages.
Family activities at Grand Canyon, such as the Junior Ranger program, can be found at the For Kids pages.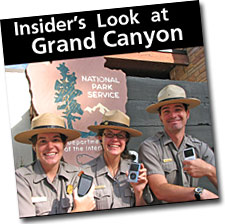 Insider's Look at Grand Canyon Podcast

Delivers periodic audio bulletins and enhanced podcasts about park news and events. Topics include anything and everything about Grand Canyon National Park. Hosted and produced by Park Ranger Patrick Gamman.

iPod users, this program is also available on the iTunes Insider's Look at Grand Canyon Podcast Channel

Podcasts are listed in order of release date, with the most recent on the top of the index page.
---