Insider's Look Podcast 14: Oct. 30, 2009
John Hance Tells How He Arrived at Grand Canyon (by Ranger Ron Brown)
Insider's Look at Grand Canyon #14
John Hance Tells How He Arrived at Grand Canyon (by Park Ranger Ron Brown)
Running Time 04m:03s - Oct. 30, 2009 - Produced by Park Ranger Patrick Gamman
Available Downloads: right-click on link - then select: save target/ file/ link as
mp3 Audiocast
mp4 Video for iPod/ devices
Transcript
3.71MB mp3 file
16.4MB mp4 file
21kb pdf File
Press the play button to start the (Adobe Flash) video above. If the playback is uneven, try pausing the video and waiting for it to load before viewing.
Help with videos...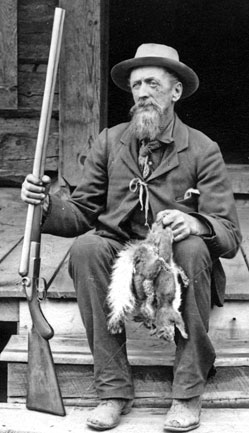 GRCA image 00825
Some Rangers at Grand Canyon present living history programs. They study, research, find pictures and costumes of historical characters - then bring them alive through dramatic impersonation. Their performances can take us back in time and suggest what it was like to be here years ago.
In this podcast, we have the opportunity to meet Capt. John Hance, portrayed by Park Ranger, Ron Brown. Hance was an early Grand Canyon pioneer and storyteller who first saw the Grand Canyon in 1883, then called the area home for the rest of his life.
Hance entertained early visitors with dozens of tall tales - many with alternate endings. It was said that he never told the same to story in the same way twice.
"Being thoroughly conversant with all the trails leading to the Grand Canyon of the Colorado, I am prepared to lead parties thereto at any time. I have a fine spring of water near my home on the rim of the Canyon, and can furnish accomodations for the tourists and their animals." (1886 advertisement by John Hance)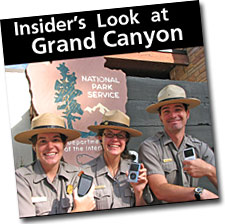 Insider's Look at Grand Canyon Podcast

Delivers periodic audio bulletins and enhanced podcasts about park news and events. Topics include anything and everything about Grand Canyon National Park. Hosted and produced by Park Ranger Patrick Gamman.

iPod users, this program is also available on the iTunes Insider's Look at Grand Canyon Podcast Channel

Podcasts are listed in order of release date, with the most recent on the top of the index page.
---