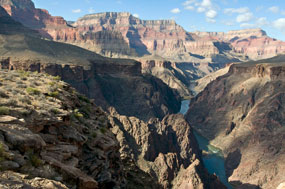 NPS photo by Kristen M. Caldon
The Colorado River running through Grand Canyon once hosted one of the most distinctive fish assemblages in North America. The wild Colorado River presented fish with a challenging and variable aquatic habitat: very large spring floods, near-freezing winter temperatures, warm summer temperatures, and a heavy silt load.
As a result, only
eight fish species
were native to Grand Canyon. Of the eight species, six are endemic, meaning that they are only found in the Colorado River basin.
Many of these Colorado River specialists share distinctive physical characteristics-large adult size, small eyes and skulls, thick leathery skin, and a distinctive hump or keel behind the head.