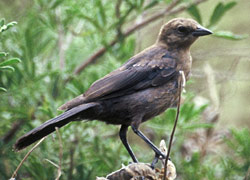 USFWS Photo by Lee Karney
Cowbirds are not native to Arizona. Originally restricted to the open grasslands of the Great Plains, cowbirds have followed modern human impacts across North America, colonizing new landscapes wherever cattle, agriculture, or suburban landscapes have spread. First seen in Arizona in 1934, brown-headed cowbirds are now one of Arizona's most common birds.
Brown-headed cowbirds are obligate parasites, meaning that they rely on a host of another species to bring up their young. Instead of building nests, incubating their eggs, and raising their young, cowbirds locate the nest of another bird, lay their eggs there, and leave them for the other bird—the host—to raise for them. Cowbird eggs typically hatch sooner, and cowbird chicks are generally larger than those of the host species. This allows the cowbird chick to dominate the others and receive more food from the host parents. In the battle for survival in the nest, cowbird chicks usually win.