2013 Construction Zones and Projects
North Rim:

Cape Royal Scenic Road Improvements
Improvements to Cape Royal Scenic Road have been completed.. (Updated December 4, 2013)

The North Rim of the park has closed for the winter and will reopen on May 15, 2014.

The National Park Service (NPS) has no active construction project taking place on the South Rim during the remainder of 2013. Below is a summary of recently completed projects and describes what was accomplished. (Updated May 31, 2013)
South Rim:

Historic District
Bright Angel Trailhead Renovation
Project Completion

On Saturday, May 18th, 2013, over 500 people gathered to celebrate the trailhead renovation of one of Grand Canyon National Park's oldest and most visited trails. The dedication ceremony, celebrated jointly by Grand Canyon National Park and the Grand Canyon Association was opened with a traditional welcome by tribal representative, Diana Sue Uquala from the Havasupai nation. Superintendent Dave Uberuaga spoke of the significance of the renovations to the historic trail that included a new seating area and plaza, new restrooms to replace portable toilets, paved parking, new stone masonry walls, accessible walkways, and a new identity sign. View
photos here
.
The project was overseen by Grand Canyon National Park Project Manager, Vicky Stinson with construction completed by Merrill, Inc., out of Cheyenne, WY. Chevo Studios and Rock & Co., both from Denver, CO, built the stone masonry walls, seating areas and the new identity sign. The project was funded jointly by park entrance fees and private funds raised through the park's official fundraising partner, the Grand Canyon Association.
For additional information on this project, please contact Vicky Stinson, Project Manager at 928-638-7364 or by email here.

---
South Rim: Market Plaza
Science & Resource Management Facility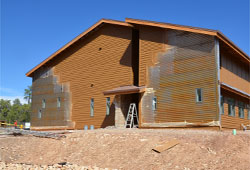 Project Completion:
Near Market Plaza and just southeast of the Park Headquarters building, construction of the new Science and Resource Management Facility has been completed.

The new facility is approximately 8,500 square feet, consists of two floors, is universally accessible, and includes employee offices, general work space, meeting space, restrooms, a small public-use library, and a separate storage warehouse.

A new parking area has also been constructed that accommodates government, employee and visitor vehicles, The new facility is also adjacent to a network of trails and nearby shuttle bus stops that will allow for employees to walk, bike or ride the park shuttle bus to and from work.
View photos of the facility here.

South Rim:

Visitor Center and Plaza Area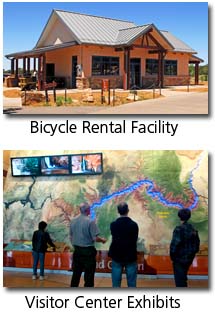 NPS Photos by Kristen M Caldon
Project Completion:
The Bicycle Rental Facility opened for the 2012 season.
On the Visitor Center Plaza and adjacent to parking lot 4, is in the same location as the temporary structure used by the pilot bicycle rental operation (in operation during the 2010 and 2011 summer seasons.)

Bicycle rental services are available between April 1 and October 31. (other times when weather permits) Guided bicycle tours are offered during the peak season. The coffee bar and cafe is open all year.
Learn more at http://bikegrandcanyon.com/

Remodeling of the Visitor Center Interior and the installation of new exhibits has been completed. Sometimes individual exhibits may be closed for fine-tuning.
Mather Point and the Rim Trail are open. You may walk to the canyon rim by following the signed pedestrian paths leading from the Visitor Center Area to the Rim Trail.
Read more about the Visitor Center/ Mather Point Improvement projects that have been taking place for three years.