Junior Ranger Discovery Pack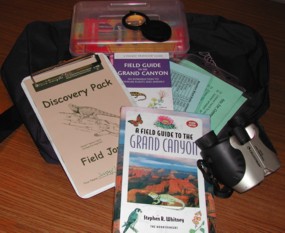 June 14 through August 18, 2015 (Daily)

The Junior Ranger Discovery Pack encourages aspiring young naturalists (ages 6-14) to explore the wonders of Grand Canyon's amazing plant and animal life with their family. After attending a 1 hour ranger-led program, participants check out a "Discovery Pack" for the day. The pack is complete with binoculars, hand lens, field guides, and other important tools of a real Park Ranger Naturalist. A field journal to record your discoveries is included.

This program meets at Verkamps Visitor Center at 9:00 a.m., and is offered from June 14 through August 8, 2015. See the Ranger Program listings for details on this and current other program offerings.

A Park Ranger will spend about 1 hour with the group helping families learn how to use the tools in the Discovery Pack, and how to record their findings in the Discovery Pack Field Journal. After this, families take the pack with them to explore the park for the day, completing the journal as new discoveries of plants, animals, birds, and other findings are made.

Upon returning the pack later that day, a Park Ranger will review your findings. By completing three or more pages in the Discovery Pack Field Journal, children are entitled to earn a special Junior Ranger Discovery Pack patch.

Completion of this program also fulfills the requirement of attending a ranger program for your Junior Ranger Activity Booklet (Raven, Coyote or Scorpion award).

A North Rim Junior Ranger Discovery Pack Program is also offered during the summer months. Consult the North Rim Guide for starting times and locations.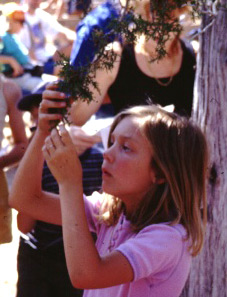 Have you seen birds and wondered what they are?
Or have you seen different pine trees and wondered why some grow in one place and not in another?
Come participate in the Discovery Pack Junior Ranger program and learn how to identify plants and animals as well as their habitats and feeding habits.