Junior Ranger Family Adventure Hike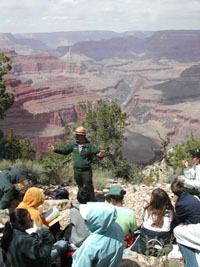 June 14 through August 8, 2015
Sunday, Tuesday, Thursday, Saturday

During the summer months, we offer the Junior Ranger Adventure Hike (ages 9-14). Join a ranger on the challenging Hermit Trail and experience Grand Canyon below the rim. This 1.5 - 2.0 round-trip hike is strenuous, so bring water, sunscreen and wear good hiking shoes!
The Junior Ranger Family Adventure Hike Program is only offered during the summer months, from June 14 through August 8, 2015.

Follow this Ranger Program link to see a current schedule of Adventure Hike and other program offerings.

The Junior Ranger Adventure Hike begins at 9:00 a.m., at the Hermits Rest bell (located next to the Hermits Rest bus stop at the end of the Hermits Rest road). To arrive on time for this program, board the free Hermits Rest shuttle bus by 8:00 a.m. (this route begins at the west end of Grand Canyon Village, refer to the shuttle bus map on the website).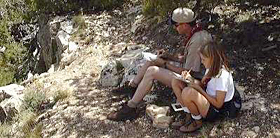 Upon completion of the 2 hour program, participants are eligible to purchase a Junior Ranger Adventure Hike patch. Completion of this program also satisfies the requirement of attending one ranger program for the Junior Ranger Activity Booklet.

The strenuous hike is not recommended for people with heart and/or breathing problems, walking difficulty, or fear of heights.