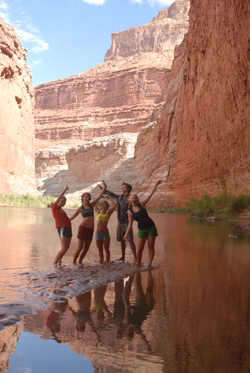 College
Grand Canyon Semester: Grand Canyon National Park is proud to partner with Prescott College to offer Grand Canyon Semester during the fall of 2015. This semester-long, interdisciplinary program embraces a progressive approach to experiential, place-based learning that uses the Greater Grand Canyon Ecoregion as our training grounds and laboratory.
High School

Grand Canyon Expeditions - Phantom Ranch: Coming in summer 2016! This backpacking adventure is for youth aged 15-18. On this8-day program youth hike down the Bright Angel Trail to Phantom Ranch, stopping at Indian Garden along the way. Youth explore topics of geology, ecology, and human history through hands-on experiences. While immersed in the backcountry, participants further develop their understanding of camping skills and Leave No Trace principles. All meals and backpacking gear are provided.
Grand Canyon Unearthed: Explore the diversity of the Canyon from the North Rim, South Rim and Colorado River while learning from park rangers about the natural history and the forces that make this geologic wonder so unique.
July 17 to July 30, 2015 ($230.00)
Spend four days exploring the North Rim, raft the Colorado River from Lees Ferry to Phantom Ranch, and hike the Bright Angel Trail to the South Rim for four more days of camping!
July 21 to August 3, 2015 ($230.00)
Spend four days exploring the North Rim, backpack down the North Kaibab Trail, raft the Colorado River from Phantom Ranch to Diamond Creek, and travel to the South Rim for four more days of camping!

Artists as Ambassadors: Experience the wild landscape of the canyon with park rangers and a professional artist, experiment with different artistic techniques and learn about the influential stories that have carved the canyon. This twelve day program for High School youth is perfect for those interested in art, adventure, and exploration.
July 6-19, 2015 ($230)
Participants will have the opportunity to see the canyon from different perspectives beginning with camping for four days on the rim of Grand Canyon, four days rafting the Colorado River from Diamond Creek to Pearce Ferry, and concluding with four days curating an original art exhibit on the South Rim.
Science Academy: Science Academy is a weekend program that invites high school students to explore scientific concepts through hands-on and inquiry-based learning. Students will complete activities covering science, math, reading and writing topics that align with grade level state standards to earn extra credit in their current classes. All meals and camping equipment are provided.