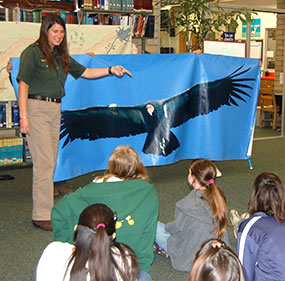 Classroom Rangers
Would you like a park ranger from Grand Canyon to visit your classroom?

In January and February each year, the park's environmental educators travel throughout Arizona, southern Utah, and the Las Vegas area, conducting educational classroom activities and school assemblies.

All programs are curriculum-based (based on Arizona State Education Standards) and free of charge. Topics include geology, ecology, pioneer history, and archaeology.

Classroom Programs

Grand Canyon National Park rangers offer in-class programs for individual classes. Each program lasts one hour and is limited to 35 students. Program topics include:

Five Senses (Grades K-2)
Using their senses, students draw connections between the use of senses and survival in the animal world. Activities and games connect students with what it is like to be an animal in the wild.

Pioneer History (Grades 2-6)
Students learn about the people who shaped Grand Canyon's history as it became a national park. Hands-on activities may include artifacts, charades, and inference-based games.

Build-a-National Park (Grades 2-6)
Students use art supplies (provided by the classroom teacher) to construct their own model of a national park while learning about the variety of places national parks protect and the stories they tell. This program requires 1½ -2 hours.

Ecology (Grades 3-8)
Students learn about the plants and animals that call Grand Canyon home by participating in activities that emphasize adaptations, ecological principles, and plant and animal interrelationships.

Archeology (Grades 2-8)
Students unearth clues about Grand Canyon's ancient inhabitants by using artifacts, games, and comparisons of past and present human activities to learn about the people who have called Grand Canyon home for the past 12,000 years.

Geology (Grades 3-8)
Students learn the geologic story of Grand Canyon by focusing on the processes of deposition, uplift, down-cutting, and erosion. Activities may include an introduction to the three rock types, Oreo cookie plate tectonics, and timelines.


---
School Assemblies


We also provide one-hour-long school assembly programs for up to 300 students. We currently offer two topics. (The ranger requires 30-45 minutes to set up for an assembly. Please provide a table, extension cord, power source, and projection screen.)
National Treasures in Your Backyard
This assembly focuses on the role and importance of national parks in your backyard and across the United States. With over 390 national park sites from which to choose, visitors travel from around the world to see places of amazing beauty, historical significance, and remarkable diversity.
Endangered Species
Students learn how national parks often serve as sanctuaries for endangered species. This program offers an introduction to endangered species and the actions national parks take to help them survive.
---