Interpretive Themes for Artist and Author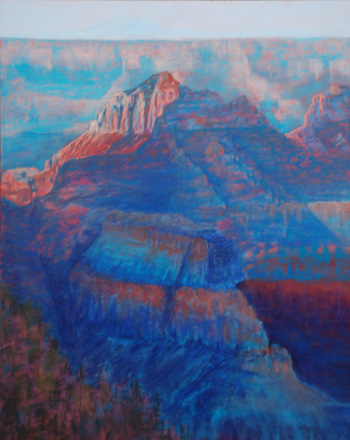 Pastel on Board
by Betsy Popp
North Rim AiR - 2008
The Artist-in-Residence Program aims to share the beauty and spirit of Grand Canyon National Park with other visitors.

The park themes attempt to capture the elements that make the park meaningful.

AiR proposals should be site-specific to Grand Canyon National Park and support the Park's interpretative themes but also be in pursuit of each applicant's artistic vision and sensibility.

The arts have always played a vital role in championing our National Parks, natural resources, ecology, environment and preservation. These artist opportunities are designed to both engage and inform the public audience (through outreach programming) while providing quality uninterrupted time for artists to create their own body of work.
---

INSPIRATION
The immense and colorful Grand Canyon is valued worldwide as one of the Earth's most powerful and inspiring scenic landscapes, offering people enriching opportunities to explore and experience its wild beauty in both vast and intimate spaces.

WATER
is the lifeblood of Grand Canyon — a force of erosion, a sustainer of scarce riparian habitat in a desert environment, a spiritual element for native peoples, a provider of recreation, and a central factor in the exploration, development, and politics of the American West.

GEOLOGY
The Colorado River and other erosional forces sculpted the southern edge of the Colorado Plateau to form the Grand Canyon, revealing a beautiful sequence of rock layers that serve as windows into time.

BIOLOGY
Extreme changes in elevation, exposure, and climate in the Grand Canyon support a remarkable range of biotic communities in unusual proximity; a relatively undisturbed ecosystem that allows natural processes to continue, providing sanctuary for present and future life.

PRESERVATION
Grand Canyon has sustained people materially and spiritually for thousands of years – wider recognition of its value led to its designation as a national park and world heritage site; however, continuing threats to its preservation generate dialogue about our need and responsibility to conserve our local and global environment.

NATIVE AMERICAN CONNECTIONS Grand Canyon remains a homeland and a sacred place to a number of American Indian cultures, a point of emergence for some, offering us an opportunity to consider the powerful and spiritual ties between people and place.