Outreach Proposal Guidelines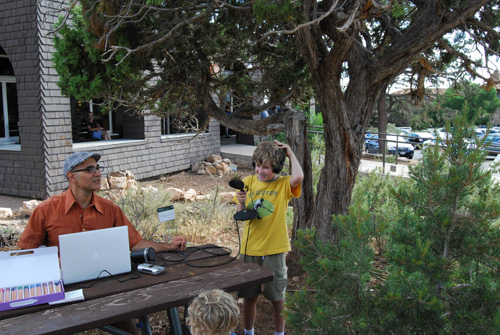 South Rim AiR - June 2010
The Grand Canyon Artist-in-Residence (AiR) program requires that participants present three programs while in residency at the canyon and one program in their home communities upon completion of their experience. There are many options and opportunities to fulfill this requirement.
When developing your outreach proposal for your application, please consult the Interpretative Themes page on our website. Many programs presented by visiting artists may fall under the "inspiration" theme, but you may find your own inspiration in the theme descriptions that will help you in your program development. You will be expected to present a minimum of three programs (35-45 minutes for hands-on day programs, up to 1 hour for evening programs or performances) of your own design to park visitors while you are in-residence.
In-park programs
Your program proposal(s) should address your intended audience, type of program it will be (hands-on, lecture, etc.), duration of the program, the type of venue needed, and other details. Please know that we would welcome a variety of offerings from each artist, however with the ever-changing park visitor audience, you are also welcome to present the same program 3 times. For example, a poet could present a reading, a poetry walk, and a school outreach workshop during their residency OR could present 3 readings. This is entirely up to each individual artist.
Outreach program opportunities might include, but are not limited to:
lectures

computer presentations (All programs must be PC compatible. Only a handful of public program venues have PCs with Power Point capability and sound systems, and equipment is limited. If speciality equipment is needed, please discuss with your program coordinator.)

hands-on workshops

rim walks and/or talks in your genre reflecting how the canyon influences or inspires your work

pleine air demonstrations

performances, readings, recitals, video or film screenings
North Rim presentation venues include:
- North Rim Lodge auditorium (good for formal evening program presentations/performances, PowerPoint programs, daytime demonstrations, and workshops)
- Campfire Program at the campground amphitheater.


Home Community presentations:
Upon completion of your residency, all artists are required to provide one outreach program in their home community in support of Grand Canyon's AiR program. This could be a hands-on workshop, a lecture, reading, or performance. Presentations should focus on the personal enrichment that you experienced while in residence.
These programs will serve to spread the word about NPS AiR opportunities at Grand Canyon and other national park areas. The NPS can provide brochures and other park information in support of your program.
We expect that your experience here will inspire your home community outreach program, so you do not need to provide a fully-developed program in this application; a general idea will suffice. (e.g. "Present a slide lecture on my AiR experience at our local community art center.")
AiR participants must provide documentation concerning your community presentation (e.g. newspaper articles, fliers) and a short evaluation of this experience within a year of completing your residency.
Be creative in your outreach program development, but please be brief! All your program details can be honed with assistance from the program coordinator.