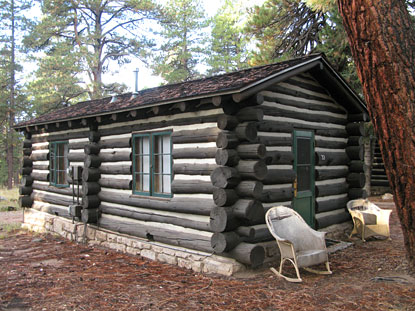 North Rim artist-in-residence cabin
The North Rim program has a charming and rustic one-bedroom cabin set-aside for artist accommodations. The cabin is fully equipped with private bathroom, separate bedroom with queen sized bed, full kitchen facilities and a living/dining room area. There is no designated studio space; artists are encouraged to work out of doors as much as possible or are welcome to spread out in the cabin.
The cabin is in the National Park Service residential area, approximately 1/4 mile from the Canyon rim, tucked under tall Ponderosa pines, cool and shaded in the summer. There is parking at the cabin.
Kitchen equipment includes pots and pans, utensils, microwave, coffee maker, and tableware. Artists are asked to provide their own bed linens (for a queen-sized bed), towels and pillows.
Artists are expected to bring their own materials for their studio work and provide their own food. Your work should require no technical support equipment as there are very limited resources at the relatively isolated North Rim.
Please bring your cell phone (Service is spotty, however. Public phones are available at the North Rim lodge). There is WiFi at the camper store, which is located about 30 yards from the AiR cabin.
If you are a selected artist, you will get comprehensive information on what is available at the North Rim before your arrival so that you can plan accordingly.
Please know that the availability of the cabin could be subject to change. If the cabin becomes unavailable, alternative housing will be arranged and all selected artists will be notified so they can plan accordingly.
For all questions specifically regarding the Grand Canyon's north rim Artist-in-Residence accommodations, please contact Robin Tellis.