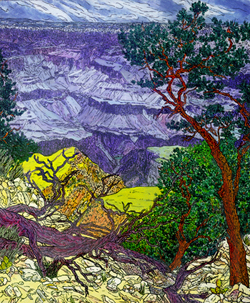 Acrylic and mixed media on board
by Susan Klein
North Rim AiR - August 2007 & South Rim AiR - October 2009
Q: Do I need to have a car?
A: If you are flying to Arizona to participate in our AiR program, you may want to consider renting a car. The North Rim is very isolated. If you prefer being very mobile, it's best to bring your own vehicle. Groceries are available at Kanab, Utah, a 90 minute drive.
North Rim residencies are somewhat isolated. The nearest airports, Flagstaff, Arizona, and Las Vegas, Nevada, each a five-hour drive. There is a shuttle from Flagstaff to the North Rim, but at this time, there is not a shuttle service from Las Vegas. Selected artists will receive complete community and travel information in advance of their residency so they can plan accordingly.
Q: Can I bring my family or pet?
A: Family members may visit the artist during the residency for a short period of time as long as the number of occupants does not exceed the occupancy limits of the apartment (3) and cabin (2). Our main concern outside of safety issues is to guard the selected artists focused art time, since time is the one thing that artists rarely have enough of. We would like to give you the opportunity to claim your solo time for the most productive and enriching experience possible. Please discuss the accommodation issues and restrictions with us before you make any plans. Pets are not permitted.
Q: Why are you no longer requiring donations of art to the collection as part of the residency requirements?
A: Grand Canyon collections staff and administrators are in the process of reviewing and rewriting the criteria for accessioning work into the permanent collection. As a result, the park has decided to indefinitely suspend adding to the collections. This policy should be considered in-flux and all artists who have participated in the program in the past or hope to in the future will be kept updated as the new policy is finalized and implemented. Please know that if you are a selected artist, you may be contacted in the future and asked to submit work that came from your residency experience for consideration for the permanent collection. All of these sorts of requests will be made on an individual basis and by mutual agreement between the park and the artists.