AiR Frequently Asked Questions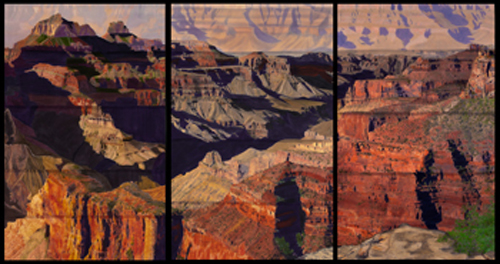 Painting on Silk
by Nancy McKay
North Rim AiR - summer 2012
GRAND CANYON NATIONAL PARK
ARTIST-IN-RESIDENCE PROGRAM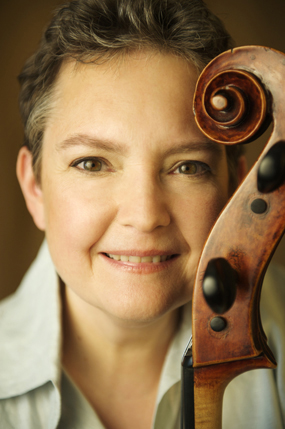 South Rim AiR - February 2011
Q: How long is the season for the North Rim's residency program?
A: May through October.

Q: Do you only select artists whose work is specifically about Grand Canyon National Park?
A: No. We're interested in offering opportunity for artists to spend focused time at the Canyon, and whose work makes the residency an interesting or natural fit. This does not make, for instance, someone who has spent a great deal of time painting the Grand Canyon more (or less) eligible than a performance artist who lives in an urban setting, whose work is about social justice and has never been to the park. However, your proposal should answer the question "Why are you applying to Grand Canyon's AiR program? Why here, why now?" (As opposed to an urban residency, for instance). We do look for and expect there to be some relevance between your work (or the work you intend to pursue), artist statement and proposal, and the Canyon.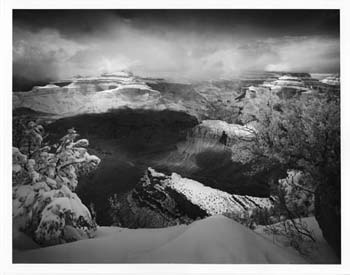 Large Format photography
by Michael Miner
South Rim AiR - January 2010
Q: What is the difference between a "shared" and a "collaborative" residency?
A: A shared residency means that you're applying to be in-residence with another artist - a spouse or a friend or family - but you intend to pursue your own individual work while in-residence
A collaborative residency means that you and your fellow-applicant(s) intend to primarily pursue one project while in-residence.
PLEASE NOTE: The North Rim artist housing is a small cabin, suitable for individuals or couples only for a maximum of 2 occupants.

Q: I'd like to apply with another artist for a collaborative residency. What do you suggest we submit for work samples?
A: If you've been long-term collaborators, you may want to submit work that you've done together, but if you're new collaborators then you can just describe your connection verbally in your statement.
It's important to show a clear connection between collaborators. What we're looking for are interesting and exciting proposals, so your ideas could be off-the-charts new or more traditional - just make sure that your proposal statement reflects the excitement you feel for your project.

Q: How competitive is the application process?
A: During the last application process, we had over 450 applications for the program.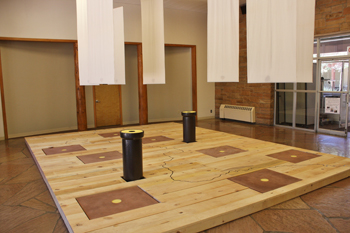 Site-specific, place-based installation; wood, pine sap, borrowed historical Grand Canyon sewer pipe, bee pollen, muslin banners, cottonwood leaves

Installed in the south rim Park Headquarters, May - Sept 2012
South Rim AiR - May 2011
Q: Will I be a part of the National Park Service staff while in-residence?
A: The artist-in-residence is classified and registered as a Volunteer under the VIP program (Volunteers in the Parks). Your role with the National Park Service will be limited to the time you are working in your outreach program but you will serve as an emissary to both the Park Service and as an arts advocate. No training is necessary! Just your enthusiasm, your commitment to your art form, your willingness to communicate your program to your intended audience and your interest in the Grand Canyon will inform your contacts with Park visitors, locals and your outreach program participants. VIP paperwork will be sent to artists who are selected to participate in the program after we receive confirmation that you are available and interested for the month that we are inviting you.
Q: Can I reapply if I have already done a residency at the Grand Canyon?
A: Past participation or selection for inclusion in one rim's program does not make you ineligible for participation on the other rim, or for a second residency experience on the same rim.
It is recommended but not mandatory that you delay re-applying to the program for three years.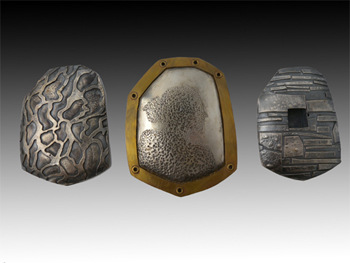 Silver and mixed metals
by Erica Stankwytch Bailey
South Rim AiR - February 2010
Q: Where can I get art supplies locally?
A: There are limited opportunities for purchase of specialty supplies. Its best if each artist plans on bringing everything that they can anticipate needing while in-residence.
Q: Do you only accept artists who are creating art that is representative or traditional?
A: No, we're interested in all artistic projects and interpretations.We welcome the opportunity to host artists in all genre and disciplines - traditional, folk and contemporary. Having said that, your work and outreach proposal should be written and designed keeping in mind that we're a National Park with many and varied visitors of diverse cultures. We ask that your public project proposals are appropriate to an all-ages/international audience and that political art focus on relevant issues to the Parks (such as the environment or preservation). A successful application will be sensitive to the Park's Interpretive Themes but also can be challenging and exciting to the public.
Q: Why is there no stipend or traveling fund for the artist-in-residence?
A: The Parks, along with all other government agencies, are feeling the squeeze of the economic climate that the US is currently experiencing. We wish to continue our Artist-in-Residence program whether we are able to off-set artist expenses or not. Unfortunately that means that as of right now we do not have any funds in support of the artists. We know that this might be a burden for applicants and ask that you seriously consider whether this is affordable for you at this time.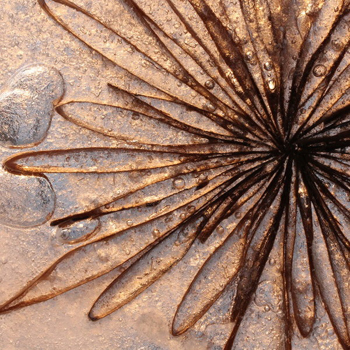 Ice and Paper sculpture - final piece is digital photograph
by Deborah Bird
South Rim AiR - May 2012
Q: I'm an Environmental Earth Works artist. Is my work appropriate for your program?
A: Any medium that involves collection or permanent altering of park resources would be in conflict with national park preservation goals and would be deemed inappropriate for a residency. Having said that, if you are in-development of a project that will be installed in another location, you are welcome to submit your proposal. Please make it clear in your application that you intend to work only on project development while in-residence at the Canyon. Earthworks projects are very appealing to a broad audience so please consider presenting a lecture or slide show/power point on your project as one of your outreach program proposals. In that way you can present your in-process project without violating any of the Park's policies.
Q: Do you accept international artists in your program?
A: Yes, the Grand Canyon is delighted to host international artists. To facilitate international artist participation, we will charge all foreign artists a very nominal fee for staying in the residency space. This fee is set at $1.00/day not to exceed $21, and will be collected from the artist before they depart at the end of their residency. This mechanism has been arranged through our International VIP Coordinator and provides the easiest way to help selected international artists avoid having to go through the lengthy and expensive J Visa application process.

Q: Will my own studio/work time be private?
A: Artists are encouraged to take full advantage of the broad audience and wonderful environment of Grand Canyon by being out in the public as much as possible. If you are an artist who needs solitude to be productive, that's okay too. We ask only that you provide the minimum of visitor contact programs that are in our guidelines. However, the artist-in-residence program is a great draw to the general public and many Park visitors will seek you out and perhaps find you during your own work time. If you are not an artist who requires solitude for your work, consider working outside on the Rim, walking the trails, soaking up the experience and interacting with the public. You'll take so much back to your own work if you take advantage of this opportunity to communicate and interact with the Park visitors and experience the Canyon as much as possible.
Q: Will there be any opportunity to exhibit or present my art during my residency, outside of my public programs?
A: There is no exhibit opportunity at the North Rim at this time.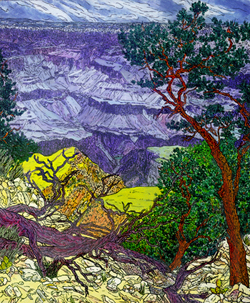 Acrylic and mixed media on board
by Susan Klein
North Rim AiR - August 2007 & South Rim AiR - October 2009
Q: Do I need to have a car?
A: If you are flying to Arizona to participate in our AiR program, you may want to consider renting a car. The North Rim is very isolated. If you prefer being very mobile, it's best to bring your own vehicle. Groceries are available at Kanab, Utah, a 90 minute drive.
North Rim residencies are somewhat isolated. The nearest airports, Flagstaff, Arizona, and Las Vegas, Nevada, each a five-hour drive. There is a shuttle from Flagstaff to the North Rim, but at this time, there is not a shuttle service from Las Vegas. Selected artists will receive complete community and travel information in advance of their residency so they can plan accordingly.
Q: Can I bring my family or pet?
A: Family members may visit the artist during the residency for a short period of time as long as the number of occupants does not exceed the occupancy limits of the apartment (3) and cabin (2). Our main concern outside of safety issues is to guard the selected artists focused art time, since time is the one thing that artists rarely have enough of. We would like to give you the opportunity to claim your solo time for the most productive and enriching experience possible. Please discuss the accommodation issues and restrictions with us before you make any plans. Pets are not permitted.
Q: Why are you no longer requiring donations of art to the collection as part of the residency requirements?
A: Grand Canyon collections staff and administrators are in the process of reviewing and rewriting the criteria for accessioning work into the permanent collection. As a result, the park has decided to indefinitely suspend adding to the collections. This policy should be considered in-flux and all artists who have participated in the program in the past or hope to in the future will be kept updated as the new policy is finalized and implemented. Please know that if you are a selected artist, you may be contacted in the future and asked to submit work that came from your residency experience for consideration for the permanent collection. All of these sorts of requests will be made on an individual basis and by mutual agreement between the park and the artists.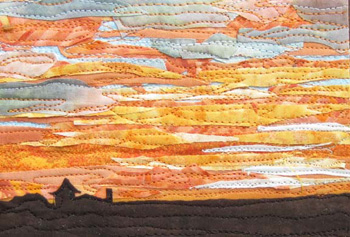 Postcard-sized quilt; fabric, thread
by Bobbie Sullivan
North Rim AiR - August 2012 & South Rim AiR - September 2012
THANK YOU FOR YOUR INTEREST IN GRAND CANYON NATIONAL PARK'S
ARTIST-IN-RESIDENCE PROGRAM