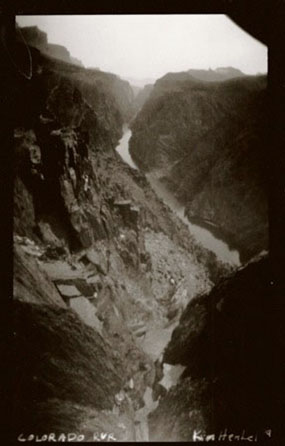 Pinhole Photograph
by Kim Henkel
South Rim AiR - December 2010
1. The willingness to share your inspiration with others is a central tenet of the Artist-in-Residence Program. The resident artist shall present a minimum of three public programs during the residency (45 minutes to one hour for day programs and hands-on workshops, for PowerPoint presentations, readings, recitals or other formal presentations). These presentations shall be based on the artist's work, experiences, and interests.
2. The park's goal of adding contemporary art to the permanent collection has been suspended indefinitely so that guidelines and criteria can be further developed. There is no donation requirement at this time.
3. All art that is generated directly as a result of a residency with the Grand Canyon AiR program will receive a credit when published or presented by the artist with the following wording: "This art was created while (your name) was in-residence at Grand Canyon National Park".
4. Upon completion of their residency the artist shall provide one outreach presentation in their home community in support of Grand Canyon National Park's AiR program. This can be a hands-on workshop, a lecture, a reading, performance, or other presentation and will focus on the enrichment that each artist experienced while in residence, and also will serve to spread the word about NPS AiR opportunities nation-wide. Artists are required to provide documentation about this community outreach program within a year of their residency.
No honorarium is available to off-set any expenses that the artist accrues while in residence. Currently the program provides a furnished living space, focused studio time, and public outreach and presentation opportunities for selected artists.