Road Work at Great Basin National Park

Road work will begin in Upper Lehman and Wheeler Peak Campgrounds. Campgrounds will be open but may be noisy and have large vehicles on the roads. The Scenic Drive is open with up to 15 min delays due to road work. Click more for details. Updated 9/9/14 More »
Snake Creek Road and Campsites Closed

The Snake Creek Road will be closed from the park boundary into the park to begin work on campsites, trails and restroom improvements. Work will continue until snow closes the project. Work will resume in Spring 2015.
Caving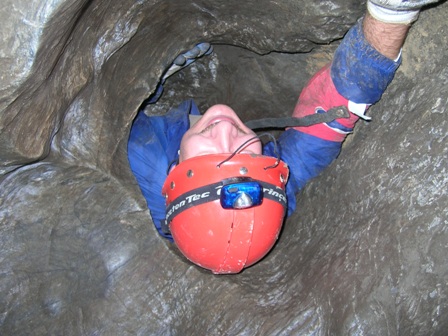 NPS PHOTO
Wild Caves
Lehman Caves is the most famous of Great Basin National Park's caves, but there are actually more than 40 caves in the park. One of these wild caves is accessible with a cave permit. All other wild caves are closed to the public.
White-Nose Syndrome (WNS) is a fungal disease that has killed more than 1 million bats in the U.S. and Canada. WNS is named for the white fungus that grows around infected bat's faces and other body parts. It was first documented in the winter of 2006-2007 in upstate New York and has since spread as far west as Oklahoma and as far south as North Carolina. White-nose syndrome has been linked to the fungus Geomyces destructans and results in bats exhibiting abnormal behavior during winter months such as flying during the day and clustering near entrances. In some hibernacula (caves or mines where bats spend the winter) 90 to 100 percent of the bats have died. This epidemic has been called one of the greatest wildlife disasters in our nation's history. Bats make up over 20% of the mammal species on Earth and save the U.S. agricultural industry over 3 billion dollars a year in pest-control services.
One wild cave, Little Muddy, will remain open each winter from October 1st to April 1st for those who can demonstrate cave conservation ethics, experience caving, and certify that their equipment is clean and disinfected.
As new information about both WNS and Geomyces destructans comes to light, Great Basin National Park will be implementing new decontamination and monitoring procedures, as well as other required guidance, as it becomes available. The park has also committed to reviewing the entire White-Nose Syndrome Response Plan, including cave closures, in three years time. Please work with us to protect our bats and their habitat.
You can find out more at the U.S. Geologic Survey National Wildlife Health Center website www.nwhc.usgs.gov/ or the U.S. Fish and Wildlife Service website www.fws.gov/WhiteNoseSyndrome/.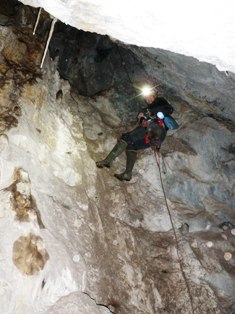 NPS PHOTO
Cave Closure Dates
Little Muddy Cave
April 1 through October 1, or if oxygen levels are below 19%

Obtaining a Permit
Cave Permits will be approved for those who can demonstrate their experience with horizontal and vertical caving techniques, cave conservation ethics, and expertise with the required equipment. Application of a permit does not guarantee approval. The permit must be in your possession while caving.
Wild Caving Information and Permit
Permits must be applied for at least one week prior to the cave trip. Groups entering wild caves are limited to a minimum of three and a maximum of six persons.
Permit applications can be mailed to:
Resource Management
Great Basin National Park
100 Great Basin National Park
Baker, NV 89311

For further information please contact the Resource Management staff by email or by phone at (775) 234-7561.
Did You Know?

Notch Peak, located in West Millard County, Utah, and visible from Great Basin National Park, towers above the desert valleys at 9,725 ft. elevation. This 3,000 ft sheer cliff is one of the tallest limestone cliffs in America.