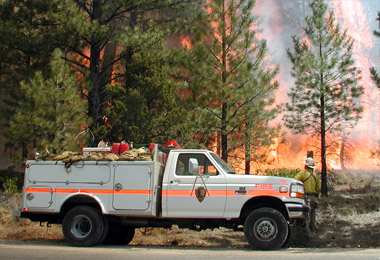 NPS PHOTO
Grey Cliffs Ecological Restoration Project
In 2005, Grey Cliffs Campground underwent fuels reduction and plant community restoration. Soils data, plant surveys, and historic photographs indicated that Grey Cliffs formerly supported a big sagebrush plant community, but it had changed over the last 100 years to a pinyon-juniper woodland. The desired future condition for Grey Cliffs was to recreate the ecological site description by seeding, selectively cutting trees, and chipping and spreading slash.
Before and during cutting operations, a mix of native shrubs, grasses, and forbs was seeded. This mix was chosen to duplicate as closely as possible the vegetation present under a natural fire regime. Trees, primarily pinyon pines, were selectively cut, with a goal of mimicking the landscape's patchiness under a natural fire regime. Aspen, ponderosa pine, mountain mahogany, white fir, and old growth pinyon were left. All slash was chipped and left on site. Spreading of chipped biomass favors germination of native perennials, and retards cheatgrass germination.