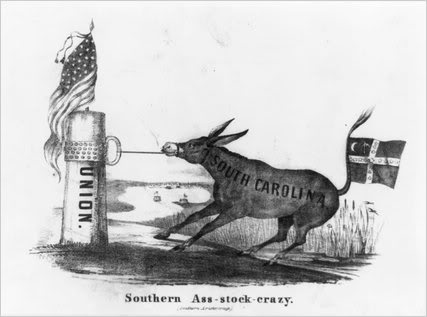 The final major factors were legal ones, the constitutional principles of nullification and secession. These issues are generally seen as part of what is called states' rights, a principle that refers to the powers reserved for the government of individual states in the United States rather than the federal government. During the early years of the United States, Founding Fathers Thomas Jefferson and James Madison wrote in support of the idea of states' rights and nullification in the Virginia and Kentucky Resolutions.
"Resolved, that the several States composing the United States of America, are not united on the principle of unlimited submission to their general government; but that by compact under the style and title of a Constitution for the United States and of amendments thereto, they constituted a general government for special purposes, delegated to that government certain definite powers, reserving each State to itself, the residuary mass of right to their own self-government; and that whensoever the general government assumes undelegated powers, its acts are unauthoritative, void, and of no force: That to this compact each State acceded as a State, and is an integral party, its co-States forming, as to itself, the other party....each party has an equal right to judge for itself, as well of infractions as of the mode and measure of redress."
–Thomas Jefferson, Kentucky Resolution, 1798
This issue of states' rights in the Civil War, however, is tied integrally to the question of slavery. The right the states sought to maintain was the right to keep slaves as property, despite any action on the part of the federal government. This position is consistent with the rhetoric of the secessionists in the South, who argued that as the Union was made up of individual states which entered a government for their mutual benefit, it was the right of any state to remove itself from that government when they felt that the actions of the federal government were harming the interests of the state's people.
And with the 1860 election of Abraham Lincoln without a single electoral vote from the South, many Southern states felt secession was their only recourse. Led by South Carolina, eventually eleven states seceded from the Union and formed the Confederate States of America, leading to war with the federal government of the United States.
---
Check out the following links to more events on the road to Civil War and keep checking back for more information about the Civil War, 150 years later:
Bleeding Kansas
John Brown – Abolitionist or Terrorist?
Also, don't forget to follow Governors Island on both Twitter and Flickr.