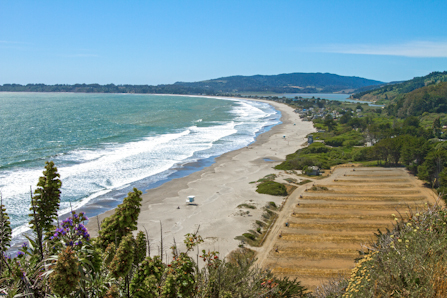 NPS/Kirke Wrench
Visitors to Stinson Beach experience the pleasures of this quiet beach community. Whether hiking, enjoying a picnic, exploring the town, or relaxing on the beach, people continue to find Stinson Beach a great place to escape from the frantic pace of everyday life, just as it has been for over a century.
Stinson Beach is open year round every day. The entrance gates open at 9:00 a.m. Closing times vary depending on season. Check the posted sign when you enter the parking lot.
Tips and Highlights

Call ahead for parking and weather updates. On hot days, the parking lot often fills before noon, and there are no overflow lots.
On weekends and holidays, a Marin Transit bus #61 (also known as the Marin Stagecoach) runs from Stinson Beach up to Pantoll Ranger Station and along the Panoramic Highway to Marin City, stopping at several mountain trailheads on its route.
The average summer water temperature is a cold 58 degrees Fahrenheit.
Shark attacks have occurred in Stinson Beach waters. Check for warning updates.
Rip currents occur year-round and can carry swimmers hundreds of yards from shore. Look for informational warning displays at the beach.
Facilities
Stinson Beach facilities include rest rooms, showers, picnic areas, and BBQ grills. A snack bar is open during summer months at the base of the main lifeguard tower. Rest rooms are located along the beach adjacent to each of the parking areas. The shower (cold) is located at the central rest room building. Picnic facilities are available on first-come, first-serve basis.
Rules and Regulations
• Pets are not allowed on the National Park Service section of the beach
• Dogs are allowed on leash in the parking lot, picnic areas, and on the county beach
• Alcohol is permitted if you are over 21
• No kegs or glass containers of any type are allowed on the beach
• Fires are permitted in designated spots in the picnic area only
• No fires or grills are allowed on the beach
• Inner tubes and motorized recreational equipment are prohibited in swimming areas
• Fishing is permitted under California Fish and Game Guidelines
• Permits are required for large groups and special events
• Camping is not permitted
Safety
Swimming is only recommended from late May to mid-September when lifeguards are on duty. Watch your children and keep them in reach at all times. Never turn your back on the ocean. Unexpected large waves, called sneaker waves, can wash farther up the shore than expected. People entering shallow water can be caught in rip currents and quickly pulled out into deep water. Rip currents are strong, swift-moving channels of water rushing from the shore out to sea. If you are caught in a one: stay calm and swim parallel to the beach until you are out of the current, then swim toward the shore with incoming waves. If you need assistance, wave your arms and yell for help.
Be aware of the potential for sharks close to shore in shallow water. Attacks have occurred here.

Directions
Click here for more information on how to drive to Stinson Beach.
Stinson Beach is located about 20 miles north of the Golden Gate Bridge. From US 101 exit at the Mill Valley/Stinson Beach/Highway 1 exit. Signs will guide you to Stinson Beach. The road is steep and winding; vehicles over 35 feet long are not advised.
Marin Transit also provides rural transit service seven days a week to Stinson Beach with the West Marin Stagecoach. For more information on routes and schedules, please visit their website at: www.marintransit.org/stage.html
For More Information
Lifeguard Tower
(415) 868-0942
Muir Woods National Monument
(415) 388-2596
Pantoll Ranger Station
(Mt. Tamalpais State Park)
(415) 388-2070
Golden Gate Transit
(415) 455-2000
Special Park Uses Office (Permits)
(415) 561-4300
Note: Cars left in the parking lot after closing will be ticketed. If you are unable to remove your vehicle please contact a ranger or leave a note on the windshield and notify park dispatch.