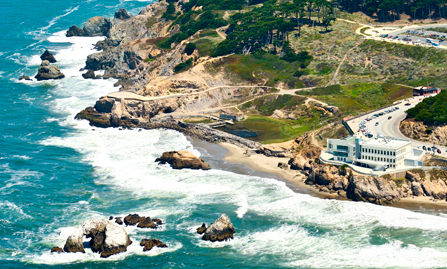 At the northwestern corner of San Francisco, there is a series of stunning views at every turn in this wild and windy trail. Hillsides of cypress and wildflowers, views of shipwrecks and access to the ruins of Sutro baths, a San Francisco specials memory.

Tips and Highlights
Begin your visit with a stop in the new visitor center, called the Lands End Lookout. Learn about the natural and cultural history of the area, and browse the selection of unique interpretive items for purchase.
Walk north along the edge of the city-and the continent-on the Coastal Trail.
Wander the evocative ruins of Sutro Baths and explore the nearby Sutro Heights gardens. Scan San Francisco from the Palace of the Legion of Honor overlook and return via the El Camino Del Mar Trail.
Check out the memorial to the USS San Francisco-a WWII cruiser that sustained 45 hits and 25 fires during the Battle of Guadalcanal in 1942-and the newly improved adjacent overlook.
The West Fort Miley batteries offer a grassy picnic area among three turn-of-the-century gun emplacements.
Wheelchair-accessible trails-made possible by recent improvements-begin from the trailhead at Merrie Way parking lot. Additional parking, with stair access to the trails, is located in the lot at the end of El Camino Del Mar . For more information about visitor accessibility, please visit the Lands End Accessibility page.
Lands End Lookout
680 Point Lobos Avenue
San Francisco, CA 94121
(415) 426-5240
Visitor center, cafe & gift shop
Open daily from 9 AM to 5 PM


Nature
The Spanish named Lands End's westernmost promontory "Point Lobos," for the many lobos marinos (sea wolves, a.k.a. sea lions) that once hauled up on the rocks offshore. The rocks are now roosts for cormorants and oystercatchers, among other shorebirds.
History


The history of Lands End, located at the city's edge, tells the story of San Francisco's urban development and the pressures and opportunities to provide city dwellers with outdoor recreational fun. In 1863, developers constructed the first Cliff House as a destination restaurant where visitors could enjoy the dramatic ocean views first hand. During the late 19th century, Adolph Sutro developed this undeveloped land into an expansive public area. Overtime, he established the Sutro Heights gardens, the Sutro Baths, rebuilt the second Cliff House, developed the Sutro Pleasure Grounds at Merrie Way and managed a private railroad company to help transport people out to this area. Visit Vestiges of Lands End, a digital guidebook of historic places, stories, events, artifacts, landscapes and geology.


For a 8 1/2" x 11" printable map of Lands End, identifying special visitor highlights, trails and parking, please download the large-print pad map (pdf file, 900 kb).

To learn more about the history of Lands End and for a map with MUNI bus lines, please download
the Lands End brochure (pdf file, 1.2 kb).