Fort Baker
Fort Baker, the ninth and final "Post-to-Park" conversion in the Golden Gate National Parks, is a 335 acre former 1905 U.S. Army post located immediately north of the Golden Gate Bridge. This hidden gem of a site consists of over 25 historic army buildings clustered around a main parade ground, a sheltered harbor protected by a jetty, a number of historic gun emplacements, and trails and forested areas climbing gently up from San Francisco Bay.
Fort Baker features a hands-on children's museum and learning center, the Bay Area Discovery Museum; a first-class lodge, Cavallo Point—the Lodge at the Golden Gate; an institution dedicated to dialog and action on global environmental issues, the Institute at the Golden Gate; as well as the U.S. Coast Guard Station Golden Gate and the Travis Sailing Center.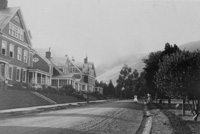 Spring 2015: Fort Baker ranger-led walking tours!
Saturday March 28, 2015
1:00 pm to 2:00 pm
Saturday May 2, 2015
1:00 pm to 2:00 pm

Come visit Fort Baker's historic Colonial Revival buildings and learn how this 1905 army post represented a new and improved standard of living for the officers and soldiers stationed here. Meet architectural historian Kristin Baron at the Cavallo Point reception building, 601 Murray Circle, Fort Baker, Sausalito, CA.

This easy, 1-mile walk has one slightly steep hill climb. You are encouraged to sign-up for the tour but it is not required to join. For more information and to sign-up for the tour, please call (415) 331-1540. The tour will be cancelled if there are heavy rains.
GETTING TO FORT BAKER


Driving Instructions to Fort Baker
From San Francisco
North on U.S. Highway 101, cross the Golden Gate Bridge.
Exit at Alexander Avenue (second exit after crossing the bridge).
Stay to the right on the exit ramp and merge onto Alexander Avenue for ¼ mile.
Turn left on Bunker Road and follow signs to Fort Baker.
From the North Bay
South on U.S. Highway 101 to the "Last Sausalito Exit," just before the Golden Gate Bridge.
Turn right at the stop sign at the end of the exit ramp and pass under U.S Hwy 101 to a second stop sign.
Continue straight onto Alexander Avenue for ¼ mile.
Turn left on Bunker Road and follow signs to Fort Baker.
Parking
Please park along the waterfront at Horseshoe Cove or at the trailhead at Drown Road, located off of East Road.
By Bike
Many cyclists approach Fort Baker on Conzelman Road from the Golden Gate Bridge. There are relatively flat routes around Murray Circle and along the waterfront. A short but steep climb takes you to the access road to Sausalito.

Marin Headlands/Fort Baker Map which provides you with road and trails information.
Activities at Fort Baker
Walking and Hiking
Fort Baker Cell Phone Tour—Learn about historic Fort Baker; its natural setting, the military and other people who have lived here through the centuries, and the role the National Park Service and park partners now play in protecting the natural world and our country's heritage here. There is a 3-hour walking tour and a one-hour accessible tour.

There are easy walks along the waterfront and along the bluffs—all have spectacular views of the Golden Gate Bridge and San Francisco Bay.

Explore seacoast fortifications at Battery Yates on the eastern bluffs.

Hike Drown Road and the Chapel Steps Trail for a moderate 1 mile loop.

To learn more about Fort Baker's history, feel free to download the two self-guided walking tours, the site bulletin and the area's map at the Fort Baker publications page.

PLEASE NOTE: If you are walking your dog, Fort Baker has been designated an area for on-leash dog walking only. Dogs are not allowed on the Chapel Trail or on Fort Baker Pier. For more information on the park's pet policy, please visit our pet management page.
Wildlife and Plants
Fort Baker is home to a variety of wildlife and plant species, including the endangered Mission Blue butterfly, and its host plant, the silver lupine. The shoreline and waters of Horseshoe Cove support a great variety of birds. Sea lions and harbor seals can often be seen from the shore or the fishing pier.
Fishing
Fishing and crabbing off the pier at Horseshoe Cove are popular activities year-round. A fishing license is not required on the pier.
Kayak and Sailing
Skilled kayakers and sailors can launch at the boat ramp in Horseshoe Cove. Sailing lessons and boat rentals are available at the small yacht harbor.
Scheduled Walks, Talks and Presentations
The National Park Service and the Golden Gate National Parks Conservancy schedule occasional programs at Fort Baker. To find out more, please visit the Parks Conservancy's online events calendar.


Interested in getting more involved in Golden Gate National Recreation Area?
Thousands of volunteers donate their valuable time in a variety of programs and projects that enrich the park. To learn more about volunteer opportunities, contact the park's Volunteer Program.

Visiting Fort Baker
Find out more about visiting Fort Baker and learn what other opportunities are available through the Golden Gate National Parks Conservancy, partner of the GGNRA. More...