Overview of Golden Gate National Recreation Area
Park Mission
The Golden Gate National Parks mission is to preserve and enhance the natural, historic and scenic resources of the lands north and south of the Golden Gate for the education, recreation and inspiration of people today and in the future. In the spirit of bringing national parks to the people, we reach out to a diverse urban community, promote the richness and breadth of the national park system to many who are experiencing a national park for the first time and foster broad-based public stewardship through various volunteer and partnership programs.
Click the links below to read the park's first General Management Plan, finalized in 1980; and the new General Management Plan/Final Environmental Impact Statement, released in April 2014.
2014 Final General Management Plan
To learn more about the park's vision for Interpretation & Education, download a copy of our latest Comprehensive Interpretive Plan:
About Us
Golden Gate National Recreation Area was established by Congress in 1972 as part of a movement known as "Parks to the People." The park has grown into the largest national park unit in an urban area in this country, and includes under its management two additional NPS units-Fort Point NHS and Muir Wood NM. The park's lands are located in three counties-Marin, San Francisco, and San Mateo. Upwards of 20 million people per year visit this remarkable park, located in the midst of a highly diverse metropolitan area of 7 million people.
The park includes world-renowned visitor destinations such as Alcatraz Island and Muir Woods, as well as many other destination of regional and national import such as the Crissy Field, the Presidio, Marin Headlands, Stinson Beach, Fort Mason, Ocean Beach, Fort Funston, Sweeney Ridge, and Mori Point. One of the largest collections of historic buildings of any national park can be found in the park, along with dozens of plants and animal species that are accorded state or federal protected status. The park is part of the United Nations-designated Golden Gate International Biosphere Reserve.
Partnership is one of the watchwords of the park, with a number of outstanding nonprofit organizations working with the park to make available a wide variety of programs. The Golden Gate National Parks Conservancy is the official support organization for the park, providing an extraordinary level of funds and assistance each year.
The park operates under Federal, Department of the Interior, and National Park Service policies and guidelines, in accordance with a General Management Plan (GMP) which was first published in 1980. The park GMP is currently undergoing revision to reflect new lands and responsibilities added since the park was established.
Park management includes a General Superintendent, Deputy General Superintendent, and a number of operating and administrative divisions. The park's budget includes annual federal appropriations, capital and special purpose project funding, fee funds, and donated funds. Park staffing is augmented by a high level of volunteerism, generally exceeding 350,000 hours of volunteer service per year.
Our Park in numbers
Resources
1,200 historic structures
5 National Historic Landmark Districts
13 National Register of Historic Places properties
365 identified and over 500 predicted archaeological sites
9 cultural landscapes
5 lighthouses
Home to 1,287 plant and animal species, that encompasses 91 miles of bay and ocean shoreline.
Part of the UNESCO Golden Gate Biosphere Reserve
Comprised of 19 separate ecosystems in 7 distinct watersheds
Home to the largest museum collection in the National Park System
Contains the 3rd largest number of federally protected or endangered species of all 401 units within the National Park Service.
FY 13 Stats
Acreage
(gross area acres legislated):
80,624 (of which 20,000 are managed by NPS)
Visitation (including all three park units, excluding the Presidio):
Total 16,834,558; (the sum of Golden Gate NRA 14,289,121; Fort Point NHS 1,591,312; and Muir Woods NM 954,125)
NPS Staffing
287 employees (219 Permanent; 66 Term; 2 Temporary), excluding US Park Police
Budget
President's Requested budget for Fiscal Year 2013: $26,776,000
For our basic fact sheet, you can download the PDF below: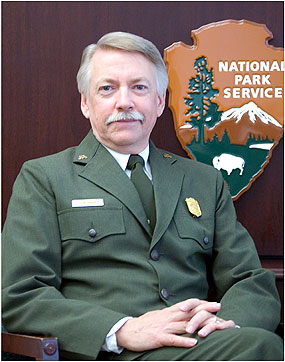 NPS
NPS Director Jonathon B. Jarvis
Jonathan B. Jarvis began his career with the National Park Service in 1976 as a seasonal interpreter in Washington, D.C. Today, he manages that agency whose mission is to preserve America's most treasured landscapes and cultural icons.
Jarvis's 37-year career has taken him from ranger to resource management specialist to park biologist to superintendent of parks such as Craters of the Moon, North Cascades, Wrangell-St. Elias, and Mount Rainier. Before being confirmed as the 18th Director of the National Park Service on September 24, 2009, Jarvis served as regional director of the bureau's Pacific West Region.
Today, he is responsible for overseeing an agency with more than 22,000 employees, a $3 billion budget, and 401 national parks that attract more than 280 million visitors every year who generate $30 billion in economic benefit across the nation.
For more information on Director Jarvis, visit the link here.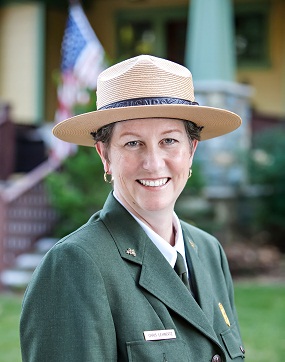 NPS
General Superintendent Christine Lehnertz
Chris Lehnertz brings diverse experience to her position as General Superintendent for Golden Gate National Recreation Area, which also includes management of Muir Woods National Monument and Fort Point National Historic Site. Most recently, Lehnertz served as Regional Director of the National Park Service's Pacific West Region, with responsibility for 61 units of the National Park Service in California, Hawaii, Nevada, Oregon, Washington, Idaho, western Montana, northwestern Arizona and Guam.
As Superintendent at Golden Gate National Recreation Area and its affiliated NPS sites, Lehnertz will be responsible for programs and facilitates serving over 17 million visitors per year, the highest visitation in the national park system. Prior to her assignment as NPS Pacific West Regional Director, Lehnertz was Deputy Superintendent at Yellowstone National Park. She also served as acting Associate Director for Cultural Resources in the National Park Service's office in Washington DC.
Lehnertz has experience25 years of experience at the field, regional, and national level , working on public lands management and environmental management and policy. She has worked in environmental and policy positions in Colorado, Wyoming, and Washington DC. She began her professional career as a seasonal fisheries technician with the State of Colorado, and also worked as a biological technician with the U.S. Forest Service and the U.S. Fish & Wildlife Service.
Before joining the National Park Service in , Lehnertz spent 16 years working for the U.S. Environmental Protection Agency in programs under the Clean Water Act, Resource Conservation and Recovery Act, Safe Drinking Water Act, and several compliance and enforcement program areas. She also worked with Native American tribes, and on EPA policies related to global climate change.
A native of Colorado, Lehnertz has a degree in environmental biology from the University of Colorado. She lives in Sonoma County with her partner, Shari Dagg.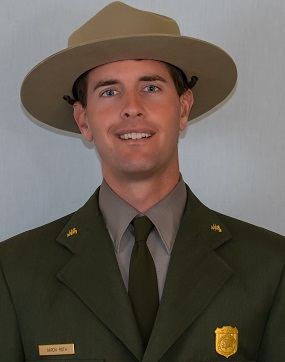 George "Doc" Miles/NPS
Deputy Superintendent Aaron Roth
Aaron Roth is the Deputy Superintendent for Golden Gate National Recreation Area and a member of the Healthy Food for the Parks team.


He has worked with the National Park Service since 2004, working first as a Business Management Specialist for the Intermountain Region and moved to Golden Gate National Recreation Area in October of 2007. Roth has been Deputy Superintendent of GGNRA since May of 2010 and is an alumni of University of Colorado, Boulder and University of Virginia.