Request for Proposals to Lease Historic Equestrian Stables in Marin County
NOTICE:
If you choose to download a copy of the Request For Proposals (RFP) or any other document from this website, please be advised that you must
register
with your contact information in order to receive future notifications and information.
The RFP is available for download. Click here.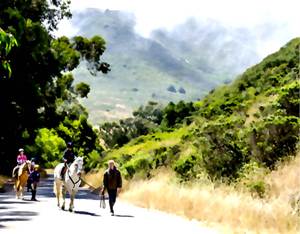 OPPORTUNITY: Lease Historic Equestrian Stables in Marin County
The National Park Service (NPS) at Golden Gate National Recreation Area (GGNRA) announces a Request For Proposals (RFP) for the lease of three historic equestrian stables. The RFP provides the opportunity for interested individuals and organizations to submit proposals to the National Park Service to lease one or more of three properties.
This lease opportunity is open to all interested persons on a competitive basis. Whoever submits the proposal for each property, judged best under the proposal selection criteria, will be given an opportunity to negotiate a final lease agreeable to both the offeror and the National Park Service.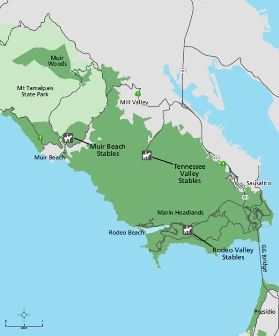 PROPERTY OVERVIEWS
The three historic equestrian stables facilities are located in southern Marin County in an area renowned for providing breathtaking, open-space access in close proximity to a major metropolitan area. Properties range in size and capacity, stabling from 11 to 42 horses. All stables are located adjacent to park trailheads, offering easy access to a network of over 20 miles of stunning, mixed-use trails. A detailed description and map of each property is provided in the RFP.
| | |
| --- | --- |
| RFP Release date | November 1, 2013 |
| Opportunity | Lease one of three historic stables in GGNRA, Marin County. |
| Locations | Muir Beach, Rodeo Valley, and Tennessee Valley. |
| Facilities | Varies: each property includes permanent structures as well as paddocks, turnouts, and other amenities. |
| Term | Each property is offered for a lease term of 10 years. |
| Site Tours | See details on second page of RFP. Reservations are required. |
| Response Deadline | January 30, 2014 |
REGISTER: Please register in order to receive updates. Click the link and complete the pop-up form with the subject "Marin Equestrian RFP." Be sure to include your name and address in the "message" field. Also Include your company name if applicable.
REVIEW AND SUBMIT: Detailed instructions are provided in the RFP regarding submittal requirements.