The National Park Service welcomes and encourages citizens to get involved with the planning efforts of all of our parks. There are a variety of ways to do this, such as, signing up to receive email updates, commenting on draft proposals, and attending public meetings. More details about ways to get involved are shown below. If this page is ever in need of updating, please let us know: goga_planning@nps.gov. While we make our best effort to keep information updated, we can occasionally fall behind. We appreciate your understanding.
Recent Open House - Public Meeting Events
Ocean Beach Fire Program and Permit System
Public Meeting - Thursday, September 24th, 2015
6:00 PM – 8:30 PM
Presentation/Discussion at 6:30 PM
County Fair Building Auditorium
Golden Gate Park
1199 9th Avenue, San Francisco, CA 94122
The National Park Service has been working to develop the next steps for the Ocean Beach Fire Program. Key elements of the proposed program include a permit system for beach fires and seasonal restrictions to coincide with the Winter Spare the Air Season as defined by the Bay Area Air Quality Management District.
Click here to download a PDF copy of the proposed Ocean Beach Fire Policy & Permit Reservation System Outline
Redwood Creek Trail Improvement & Dias Ridge Trail Extension: Environmental Assessment
Open House - Wednesday, March 18th, 2015
6:00 PM – 8:00 PM
Mill Valley Community Center
180 Camino Alto
Mill Valley, CA 94941
Trail Walk - Saturday, March 21st, 2015
10:00 AM – 12:00 PM
Meet at Golden Gate Dairy/Stables
1760 Shoreline Highway
Muir Beach, CA 94965
California State Parks and the National Park Service hosted an open house and trail walk to discuss two projects within the Redwood Creek Watershed. We are seeking public input on these concepts and invited interested members of the public to join us. The trail projects include improvements to the existing Redwood Creek Trail and extending the Dias Ridge Trail along a segment of Highway One to connect to the Redwood Creek Trail.
Click here to download our newsletter
Alcatraz Ferry Embarkation Draft Environmental Impact Statement Released
Open House - Tuesday, March 31st, 2015
4:00 PM – 7:00 PM
Bayside Conference Room
Pier 1, The Embarcadero
San Francisco, CA 94111
The National Park Service has completed the Draft Environmental Impact Statement for the Alcatraz Ferry Embarkation Project. The project would establish a new, long-term ferry embarkation site for passenger service between the northern San Francisco waterfront and Alcatraz Island. It would also establish special ferry service between the selected Alcatraz ferry embarkation site and the existing Fort Baker pier, as well as between Fort Mason and other destinations in San Francisco Bay.
Click here to download our newsletter
Ocean Beach Fires Revised Pilot Program Public Meeting
Thursday, February 5th, 2015
6:00 PM – 8:30 PM
The Cliff House - Terrace Room
1090 Point Lobos Avenue
San Francisco, CA 94121
Click here to download a PDF copy of the agenda
The objective of this meeting was to obtain productive input and feedback from the public to help inform the decision-making process for the future of fires on Ocean Beach. Throughout the years there have been ongoing issues on the beach in the area where fires are allowed, making it challenging for the park to manage effectively. Prevalent issues include: hazardous materials such as broken glass, nails, and hot coals; disorderly conduct associated with alcohol consumption; and significant amounts of trash left on the beach and promenade.
The meeting was structured to provide as much information as possible and respond to questions and concerns from stakeholders. NPS staff was available to discuss and provide information based on their experience in the field. San Francisco Supervisor Eric Mar, District 1, and representatives from San Francisco Recreation and Parks Department were also in attendance and available to speak with attendees.
Stay Connected
Learn about park projects through our Planning, Environment, and Public Comment (PEPC) website:
http://parkplanning.nps.gov/parkHome.cfm?parkID=303
Twitter:
Facebook:
Golden Gate National Park Service
Email notices: sign up to receive emails about the park by entering your email address into the "Join Our Email List" box below.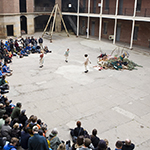 Art in the Parks
Through a partnership of the National Parks Service at Golden Gate National Recreation Area, the Golden Gate National Parks Conservancy, and the Headlands Center for the Arts, the Arts in the Parks program is finding new ways to make the arts part of the visitor experience. From the misty waters surrounding Sutro Baths to the lonely cells of Alcatraz, the program encourages creativity to transform the visitor experience of these public spaces. Working with partnering artists and organizations, artwork and performances are created specifically for a park site, enabling opportunities for reflection about the nature and history of the San Francisco Bay Area and beyond.
The newest Arts in the Parks project,
@Large: Ai Weiwei on Alcatraz
, will feature a series of seven site-specific installations by artist Ai Weiwei in four locations on Alcatraz Island, offering a new cultural lens through which to experience the notorious military and federal penitentiary turned national park, opens September 27. Tickets are available
here
.
To learn more about Arts in the Parks, current and past exhibitions please visit the Arts in the Parks webpage.