Current Dog Walking in GGNRA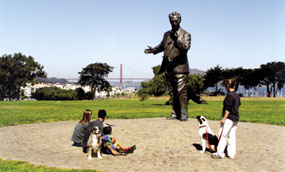 NPS
.
Areas Open For On Leash or Voice Control Dog Walking
Marin County
Alta Ave. between Marin City/Oakwood Valley
Muir Beach
Oakwood Valley Fire Road, and Oakwood Valley Trail from junction with Oakwood Valley Road to Alta Avenue
Homestead Valley
Rodeo Beach and South Rodeo Beach
Three Marin Headlands trail corridors:
Coastal Trail from Golden Gate Bridge to junction with Wolf Ridge Trail;
Loop Trail from Rodeo Beach parking lot up Coastal Trail paved road (Old Bunker Road) near Battery Townsley and return to Rodeo Beach on paved road;
Wolf Ridge Loop (Coastal Trail to Wolf Ridge Trail; Wolf Ridge Trail to Miwok Trail; Miwok Trail back down to Coastal Trail).
San Francisco

Baker Beach, north of Lobos Creek
Crissy Field (excluding the Wildlife Protection Area at the west end of Crissy field beach where leashes are required all year except from May 15 to July 1- Click here to read the NPS Final Rule)
Fort Funston (excluding the 12-acre closure in northwest Ft. Funston and the northern end of the Coastal trail, closed due to erosion.)
Fort Miley
Lands End

Ocean Beach (excluding the Plover Protection Area from Sloat Blvd. north to Stairwell 21 where

where leashes are required all year except from May 15 to July 1- Click here to read the NPS Final Rule)
West Pacific Avenue, from the Broadway Street entrance to the 14th Avenue Gate (per NPS 1996 Compendium Amendment).
Parking Lots and Picnic Areas

Dogs must be on leash in parking lots and picnic areas.

Areas Open For On Leash Dog Walking Only
Marin County
County View Road and Marin Drive connector trails to North Miwok Trail
Fort Baker
Oakwood Valley Trail to the junction with Oakwood Valley Fire Road
Stinson Beach, parking lots/picnic areas only
4 Marin Headlands Trail corridors:
Coast Trail between Hill 88 (junction of Coastal Trail and Wolf Ridge Trail) and Muir Beach
Miwok Trail between Tennessee Valley parking lot and Highway 1 (North Miwok Trail)
Fire road around Battery Smith-Guthrie
Trail to South Rodeo Beach
San Francisco

All trails not closed to dogs
Ft. Point lands, excluding inside the fort and the pier
Ft. Mason
Sutro Heights
San Mateo County

Milagra Ridge trails
Mori Point trails
Rancho Corral de Tierra
Sweeney Ridge trails, except for the Notch Trail which is closed to dog walking

Parking Lots and Picnic Areas
Dogs must be on leash in parking lots and picnic areas.
Areas Closed To Dogs
Click here to read the Superintendent's Compendium
Note: Service animals accompanying a person with a disability, as defined by Federal law and Department of Justice regulations (Title 28 Code of Federal Regulations § 36.104), are allowed wherever visitors or employees are allowed.
Parkwide
All park buildings and facilities, including outdoor restrooms and public showers.
Marin County
Chapel Trail
Fort Baker Pier
Alta Trail (only between Oakwood Valley trail intersection and Wolfback Ridge Road)
Bicentennial Campground
Bobcat Trail
Coyote Ridge Trail
Dias Ridge Trail
Fort Baker Pier
Fox Trail
Green Gulch Trail
Hawk Campground and Trail
Haypress Campground and Trail
Kirby Cove area
Lower Fisherman Trail and Beach
Marincello Road
Middle Green Gulch Trail
Miwok Cutoff Trail
Miwok Trail, between Wolf Ridge and Bobcat Trail
Morning Sun Trail
Old Springs Trail
Point Bonita Lighthouse Trail
Rodeo Avenue Trail
Rodeo Beach Lagoon
Rodeo Lake
Rodeo Valley Trail
SCA Trail
Slacker Hill Trail
Tennessee Valley beach
Tennessee Valley Trail from parking lot to beach
Upper Fisherman Trail and beach
Big Lagoon
Owl Trail
Redwood Creek
Muir Woods National Monument
Redwood Creek Trail
Coast Trail
Dipsea Trail
Matt Davis Trail
McKennan Trail
Willow Camp Fire Road
Stinson Beach (beach only)
San Francisco

Crissy Field Tidal Marsh and Lagoon
Fort Funston Habitat Protection Area
Coastal Trail, intersection of Horse trail to Great Highway, closed due to erosion.
Fort Point (inside historic fort)
Fort Point pier (Torpedo Wharf)
Battery to Bluffs Trail
China Beach site
Lobos Creek
Marshall Beach
San Mateo

Phleger Estate
Notch Trail at Sweeney Ridge

Regulations That Apply to All Dog Walkers: On Leash or Under Voice Control


36 CFR § 2.15 - The sections of the NPS pet regulation that prohibit:

Failing to dispose of pet excrement
Leaving a pet unattended and tied to an object except in designated areas or under conditions which may be established by the Superintendent.
Allowing a pet to make noise that is unreasonable considering the location, time of day or night, impact on park users, and other relevant factors, or that frightens wildlife by barking, howling or making other noise.
Possessing a pet in a public building or at a designated swimming beach or in any area closed to pets by the Superintendent.
36 CFR § 2.1 - The regulation to preserve natural, cultural and archeological resources which prohibits possessing, destroying, injuring, defacing, removing, digging or disturbing wildlife, fish, plants or cultural or archeological resources.

36 CFR § 2.2 - The regulation to protect wildlife that prohibits the feeding, touching, teasing, frightening or intentional disturbing of wildlife nesting, breeding or other activities.

36 CFR § 2.34(a)(4) - The regulation regarding disorderly conduct which prohibits creating hazardous or physically offensive conditions.
2011 Draft Dog Management Plan/EIS and public comments.

2011 Draft Dog Management Plan/EIS and public comments. Read More

Western Snowy Plover

Two protection areas have been established in GGNRA to protect the Western Snowy Plover Read More

Negotiated Rulemaking

Information about the GGNRA Negotiated Rulemaking Committee for dog management. Read More