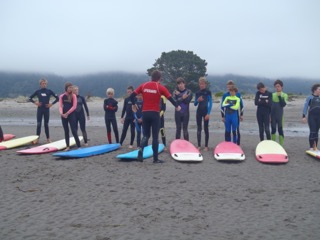 National Park Service
Be a Junior Lifeguard
GGNRA Junior
Lifeguards
Stinson Beach
The Program
Junior Lifeguards is a free summer program for teens ages 12-17 educating local youth in beach safety, lifeguarding techniques, first aid, and ocean awareness. Participants will learn rescue skills from National Park Service lifeguards in the beautiful environment of Stinson Beach. The program is packed with engaging lifeguard related exercises, drills and games, as well as many additional activities lead by visiting instructors from other areas of the local emergency response field. The program will be a mix of physical sessions, educational sessions, and offsite field trips. Many of our activities will be in the ocean, so ownership of a wetsuit is highly recommended. After completing the program, participants will know how to perform basic ocean rescues, have awareness of common currents, know the first steps of what to do in a medical emergency and have in-depth knowledge of the National Recreation area that is our backyard.
Dates and Location
Mondays and Tuesdays
Stinson Beach
**NorCal Jr.
Lifeguard
Competition
Aug 6th
**
Lifeguard
Certification
Participants ages 15 and up will be offered an additional week-long Red Cross Lifeguardcertification course at the start of the summer. The class will run June 22nd-26th and will be led by certified Red Cross lifeguarding instructors. Upon completion of the course, participants will receive their Red Cross Lifeguard certification and will be able to look for work as certifiedlifeguards!
Pre-program Safety Screening
Safety is our upmost concern, so every JL must pass a physical fitness screening prior to joining. To ensure each participant can safely handle the physical demands of our program, applicants must complete an untimed, 600 yard ocean swim and mile long beach run.
How To Apply
If you are interested, please call 415 725 2138 to schedule an in person meet and greet at the Stinson Beach Lifeguard Tower. All applicants must interview BEFORE JUNE 1st to be considered for a spot in the program
Junior Instructors
Think you're too old? Already have a lifeguard cert? Apply to be a Junior Instructor and share your knowledge with the team! Call (415)725-2138 to schedule an in person meet and greet.