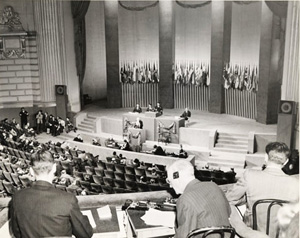 Photo courtesy of Glen McCreary, San Francisco History Center, San Francisco Public Library
The San Francisco Conference
Despite President Roosevelt's death just twelve days earlier, the United Nations Conference on International Organization in San Francisco stayed on schedule, beginning on April 25th and continuing through June 26th, 1945. On the opening day of the peace conference, 268 delegates, representing 46 nations, gathered in San Francisco's War Memorial Opera House to begin their first session. The tone of the event was solemn, as the loss of President Roosevelt was still very much on everyone's mind and the war was not yet officially over.
Because Truman was unable to leave Washington D.C. so soon after taking office, he spoke to the San Francisco conference from the White House via telephone. After welcoming the delegates, Truman said, "Franklin D. Roosevelt gave his life while trying to perpetuate…[humanitarian] ideals. This conference owes its existence, in large part, to his vision, foresight, and determination." Following the conference's ceremonial beginning, the delegates tackled the difficult issues on the agenda, including nearly 150 proposed charter amendments.
On June 26th, the last day of the San Francisco conference, President Harry Truman arrived into the city where he, as well as delegates from allied nations around the world, signed the United Nations charter. On October 24, the charter was ratified and the United Nations was officially born.