Lorin H. Tryon, Jr. Collection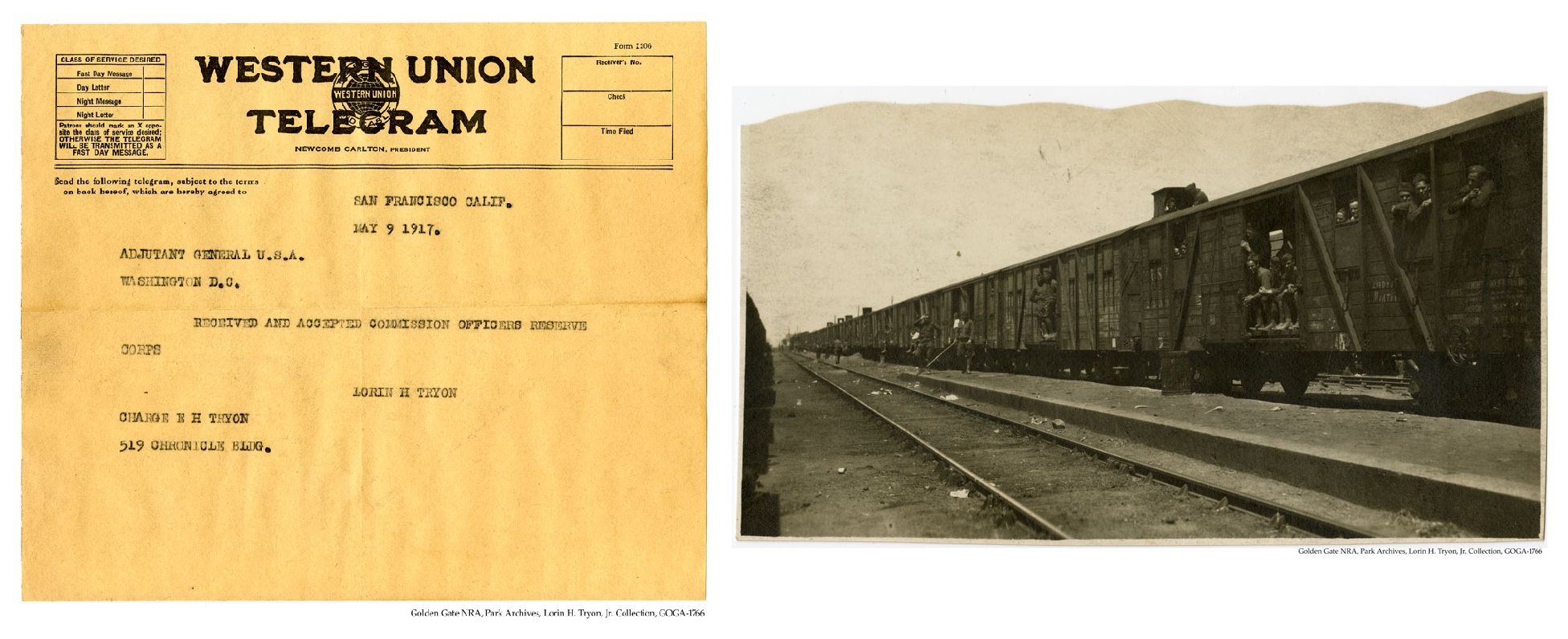 Golden Gate NRa, Park Archives, Lorin H. Tryon, Jr. Collection, GOGA-1766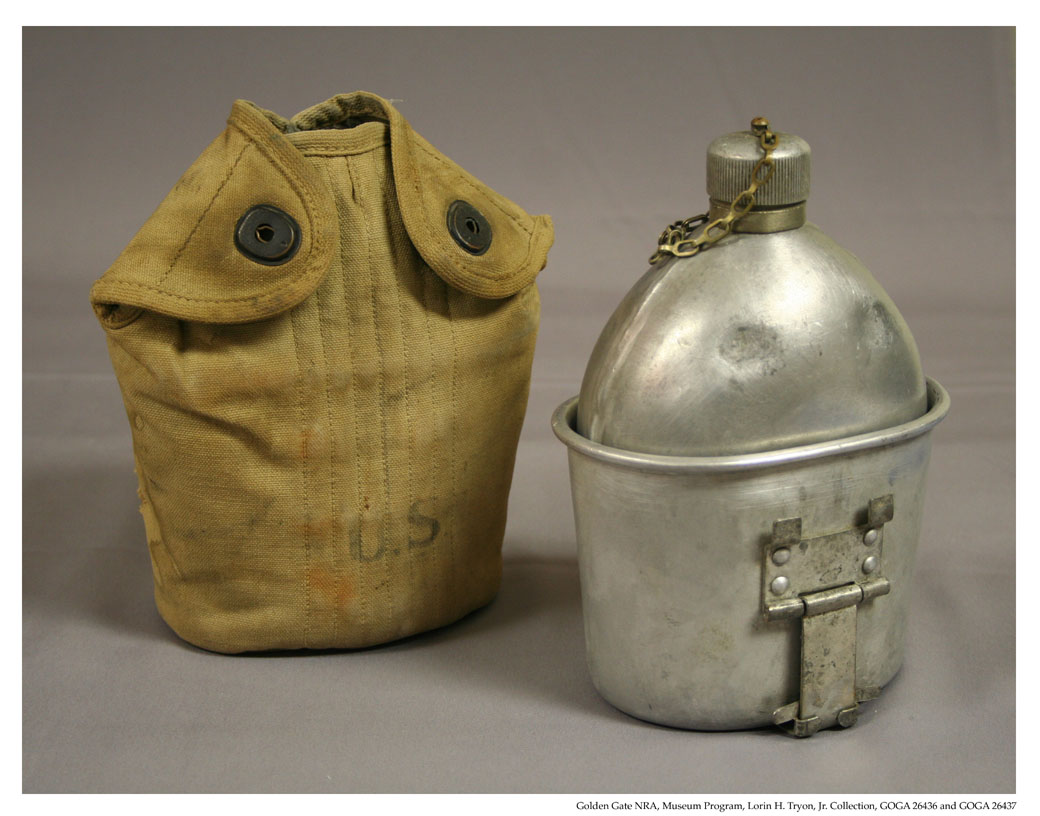 Golden Gate NRA, Museum Program, GOGA 26436 & GOGA 26437
Lorin H. Tryon, Sr. was born on January 15, 1892 in San Francisco to Ephraim Howard Tryon and Addie I. Eskridge, both descendents of pioneer California families. Born in Indiana, Ephraim's family moved to California on the heels of his uncle, who had established the first wool mill in California. After graduating from the Heald Business College in San Francisco, Ephraim worked for his uncle's manufacturing business and eventually took over, developing it into one of the largest wool enterprises in the state. At its height, he maintained mills in Sacramento and Stockton and enlisted his son, Lorin, to manage general offices in San Francisco.
Prior to his entry in World War I, Lorin H. Tryon, Sr. was a member of the Citizens' Home Guard. When war was declared between Germany and the U.S. he enlisted in the 91st Division, entering the Infantry Officers Training Camp at the Presidio of San Francisco as a Second Lieutenant in May of 1917. In August of 1917, he was sent to Camp Lewis, Washington with the Quartermaster Corps and went to France as a Captain with the 316th Supply Train in 1918.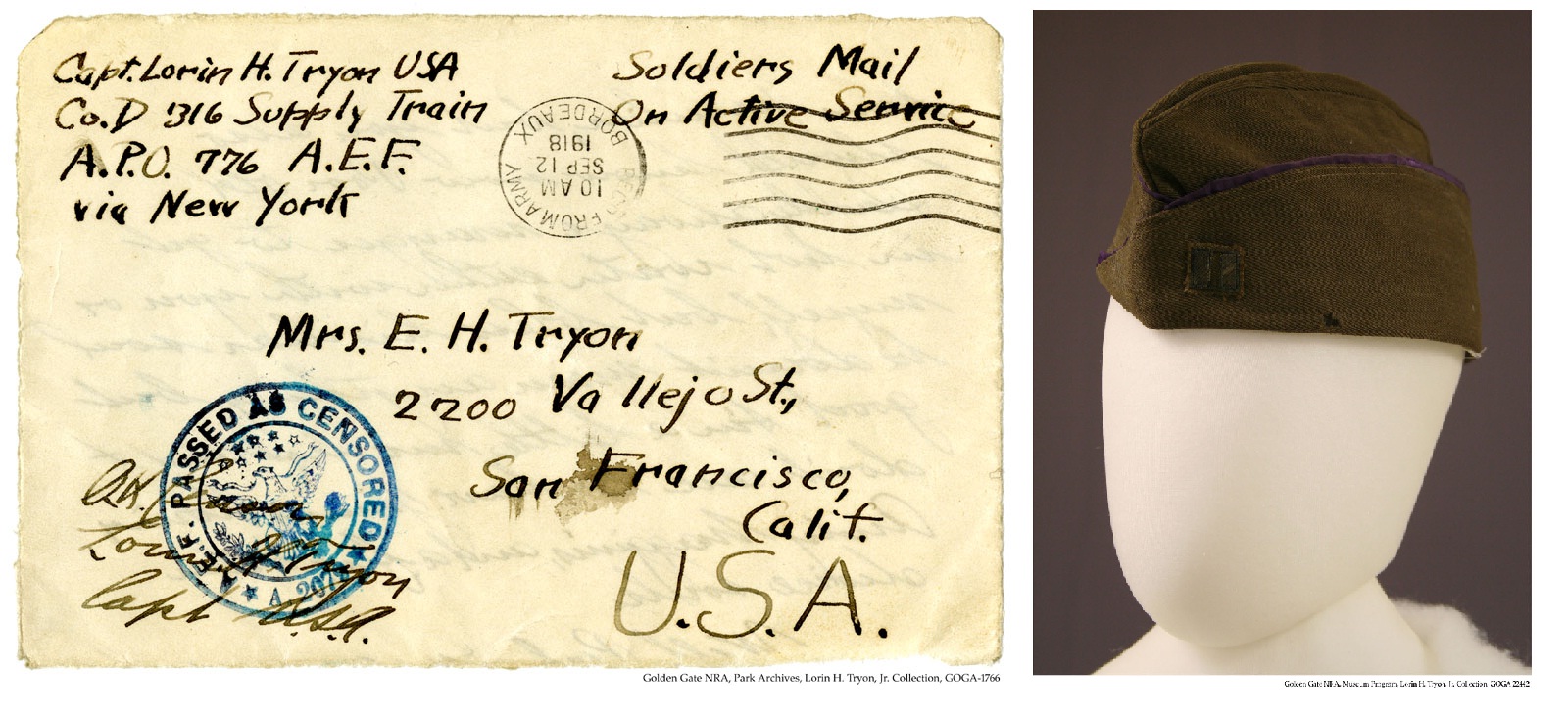 Golden Gate NRa, Park Archives, Lorin H. Tryon, Jr. Collection, GOGA-1766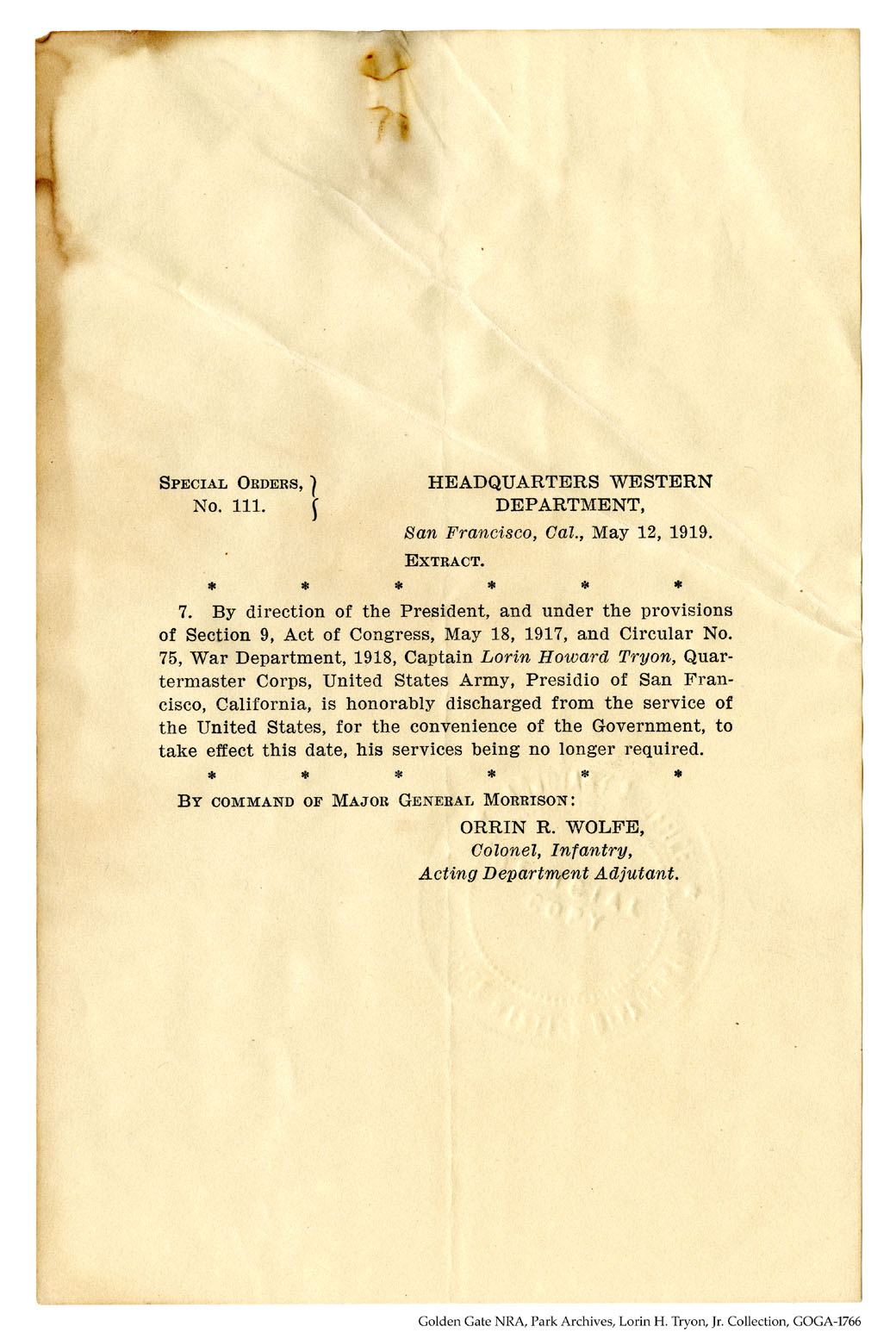 Golden Gate NRA, Park Archives, Lorin H. Tryon, Jr. Collection, GOGA-1766
While in France, Tryon, Sr. participated in the St. Mihiel offensive. Then his unit moved northwest to Verdun and consequently participated in the Meuse-Argonne offensive. At the end of October of 1918, the 91st Division came under command of the French Army in Belgium and took part in the Lys-Scheldt offensive near Audenarde. Included in the ceremony recognizing the King and Queen's return to the City of Belgium after its liberation by Allied forces, the division then moved to LeMans before embarking for the U.S. in February of 1919. Once Captain Tryon returned to the San Francisco, he was discharged from the Presidio on May 15, 1919.
Lorin H. Tryon, Sr. married Ola Willett, the daughter of Walter B. Willet of San Francisco. The couple had two known sons, Willet Howard Tryon and Lorin H. Tryon, Jr. After the death of Ephraim Howard Tryon in San Francisco in August of 1921, his son Lorin H. Tryon, Sr. took over the family business. He and his wife, Ola, were respected lifelong citizens of San Francisco and the Bay Area. During his lifetime, he was a Native Son of the Golden West and was also a member of the Union League Club and the Olympic Club of San Francisco.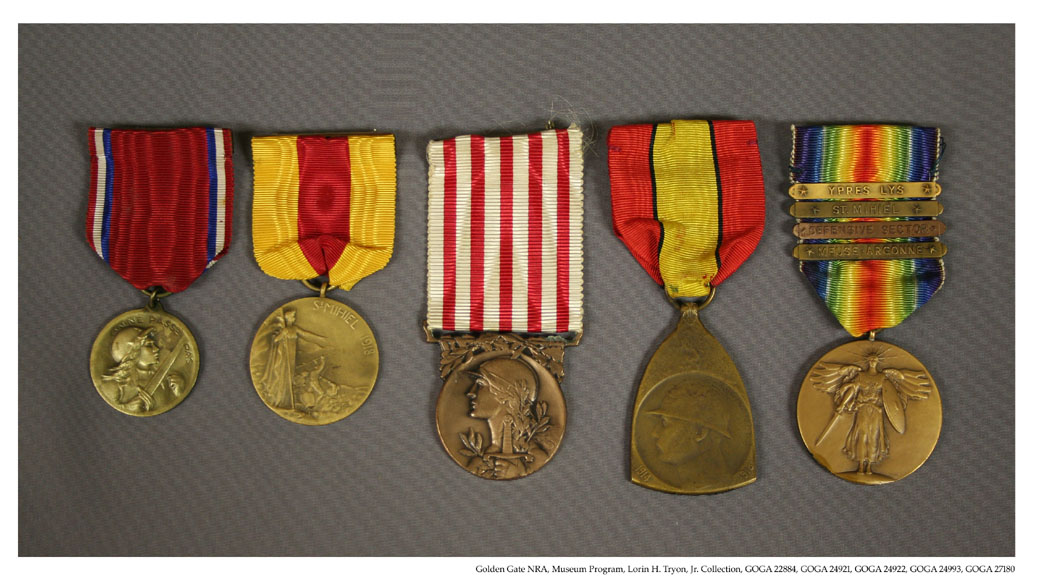 Golden Gate NRA, Museum Program, GOGA 22884, 24921, 24922, 24993, 27180
The collection was donated to the Presidio Army Museum over a number of years from approximately 1974 to 1981 by Captain Tryon's son, Lorin H. Tryon, Jr. The donation included materials that document his father's career as well as materials pertaining to the life and career of Colonel Andrew Summers Rowan that were willed to Lorin H. Tryon, Jr. by Colonel Rowan's second wife and Tryon's aunt, Viola Voorman Willet. Although most of the Rowan materials currently reside at the U.S. Army's Center of Military History in Virginia, the Tryon materials, ranging from a bacon can to a raincoat, are available for research at the Golden Gate National Recreation Area.