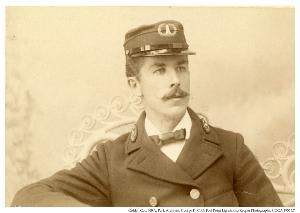 Golden Gate NRA, Park Archives, George D. Cobb Fort Point Lighthouse Keeper's Photographs, GOGA 19555
Since 1853, lighthouse keepers have maintained the beacons that guided ships through the waters of the Golden Gate. Lighthouse keepers, or "wickies," tended and cared for each light station. During the time when oil lamps and clockwork mechanisms were used to operate the lights, they trimmed wicks, replenished fuel, wound clockworks, and cleaned lenses and windows. Wickies were also responsible for operating the fog signal. Three lighthouses are within current park boundaries at Alcatraz, Fort Point, and Point Bonita.
The Alcatraz Lighthouse was first constructed in 1853, and rebuilt in 1909 after it was damaged in the 1906 San Francisco Earthquake. Lighthouse Keeper Underhill Van Wagner lived with his family in the keepers' residence at the base of the lighthouse from 1856 to 1862. His annual salary was $1,100. Benjamin F. Leeds served as Lighthouse Keeper from 1888 to 1905. During his service he erected a two-foot high wall around the keepers' quarters, which he filled with soil and planted trees and flowers.