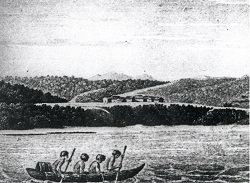 Golden Gate NRA, Park Archives, PAM Photo Collection, GOGA 35256
The Coast Miwok were the first to encounter Europeans when ships from the Sir Francis Drake Expedition anchored near the San Francisco Bay in 1579. As recorded by the expedition chaplain, Francis Fletcher, they showed themselves to be "tractable and loving," and he felt the open Miwok disposition promised to manifest a "most willing obedience" to the "preaching of the Gospel."
English and Russian exploration compelled Spain to strengthen its control of Alta California. In 1769, Gaspar de Portola led an overland expedition north from Mexico. Near Half Moon Bay, the expedition encountered a friendly Ohlone tribe Portola called the Costanoans, derived from the Spanish word Costenos meaning "Coastal People." Juan Bautista de Anza, on his second expedition from the Southwest, reached the mouth of the Bay in 1776. Already familiar with Spaniards, the Ohlone treated members of the expedition like distinguished guests-paralleling the experience of Drake and Portola.