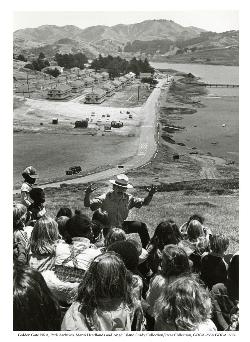 Golden Gate NRA, Park Archives, Richard Frear Collection, GOGA 18326
The GGNRA would not be the park it is today without the assistance of its partners and the community. In order to maintain such a large area with so many historic structures and varied landscapes, the GGNRA partners with organizations that share the National Park Service values of education, preservation, and interpretation. These partners include organizations like NatureBridge, Headlands Center for the Arts, and the Fort Mason Center. One of the largest park partners, and the official support group of the GGNRA, is the Golden Gate National Parks Conservancy. The Conservancy assists the GGNRA with the creation of educational programs, grant development, volunteer organization, gift shop and bookstore management, and habitat restoration throughout the park.
Volunteers who work with park partners and with the NPS donate thousands of hours each year to help maintain and interpret sites within the GGNRA. Every day, groups of people are found throughout the park contributing to important NPS projects. People can give a few hours every year or every week, participating in activities like interpretive walks, historic military sites preservation, vegetation removal, and habitat restoration with native plants.