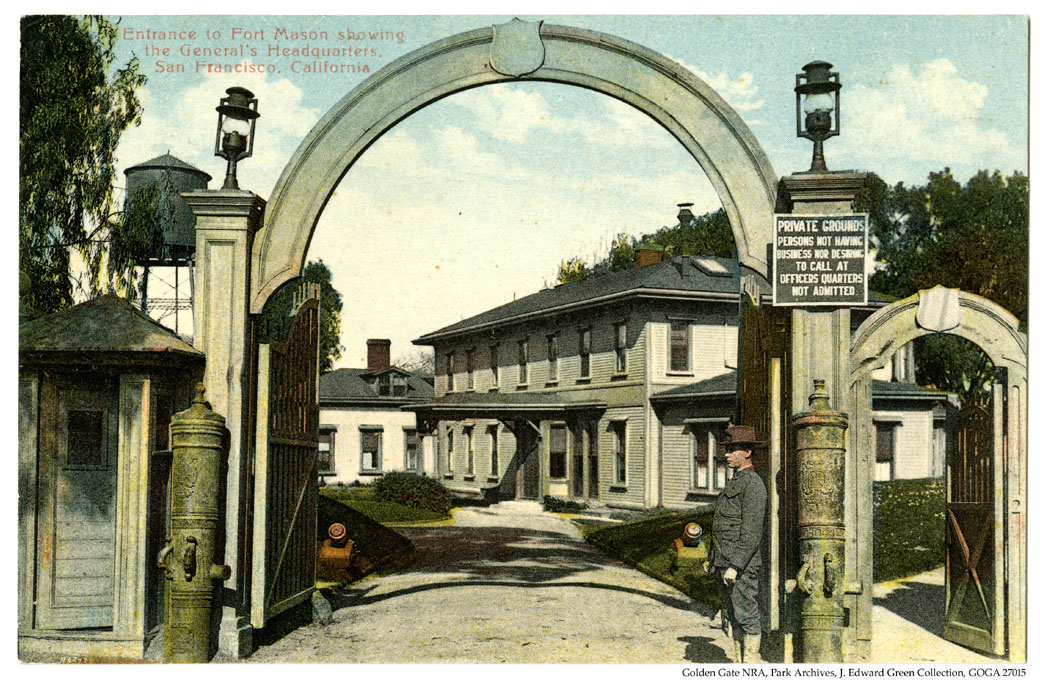 Golden Gate NRA, Park Archives, J. Edward Green Collection, GOGA 27015
Letterman General Hospital, named for Major Jonathan Letterman, medical director for the Army of the Potomac, was constructed to address the medical needs of a post overwhelmed by troops encamped at the Presidio of San Francisco in preparation for embarkation to the Spanish American War. Designed by W.H. Wilcox of San Francisco, the U.S. Army General Hospital was completed in 1902 with a capacity of 300 beds and ten wards connected to administrative buildings by covered corridors. Innovative for the period, the hospital featured an intercom, x-ray machines, and in 1901, employment of the first group of women to emerge from the newly created Army Nurse Corps.
In 1850, President Millard Fillmore claimed Punta de San Jose or Black Point (now known as Fort Mason) for use as a military reservation. However, the U.S. Army did not formally occupy the land until 1863. Since the land was designated on paper only, settlers in San Francisco, including John C. Fremont, unwittingly built homes on the government's land. Fearing a Confederate naval attack on San Francisco during the Civil War, the military returned to Black Point and evicted what it considered squatters, demolishing all structures except for one built by George Brooks, editor of the Golden Era. In 1865, the house was enlarged to accommodate Major General Henry W. Halleck who had taken command of the Military Division of the Pacific. When Major General Irwin McDowell took command of the Department of California in 1876, he requested larger facilities in order to entertain visiting dignitaries and San Francisco society. The house was moved north of its original site to serve as quarters for commanding officers on post, except for the kitchen and its left wing which were incorporated into the new structure. Since that time, the building has served as the residence for such notable figures as General Frederick Funston, General Arthur MacArthur (father of General Douglas MacArthur), Major General Hunter Liggett, and Adolphus W. Greely of Arctic fame, to name a few; and has entertained Presidents Ulysses S. Grant (1879) and Rutherford B. Hayes (1880).
The J. Edward Green Postcard Collection was donated to the Presidio Army Museum over a number of years through the 1970s and 1980s. In addition, Green's expansive collection includes artifacts from local Native Americans, and items which pertain to the military presence in San Francisco, ranging in date from the Civil War to World War II.