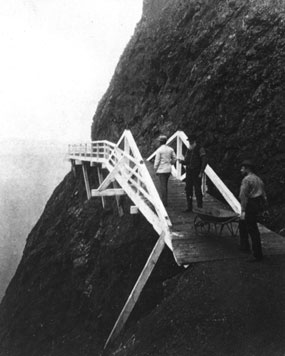 Eadweard Muybridge, GGNRA Archives
Investigation F
Photo: The "Gallery" at Point Bonita, circa 1871.
Location: #7 on the map; Facing southeast, looking at northern tunnel entrance.
The wooden walkway was built to provide access to the steam fog signal (see photo for Investigation D).
From 1855 to 1877, the lighthouse was located where the Coast Guard radar is today (near #2).
Rockslides damaged the wooden walkway in 1872, 1874 and 1876.
The tunnel was dug with hand tools. It was completed in 1877. It is 39 meters (118' long). There has never been a rock fall inside the tunnel. What does this tell you about the stability of the rock?
The elevated, concrete bridge you see in front of the tunnel entrance was built after a landslide in the 1950s.