Grade 4
This program is full for the 2015-2016 school year.

Please see link at bottom of page for Point of Inquiry introductory video.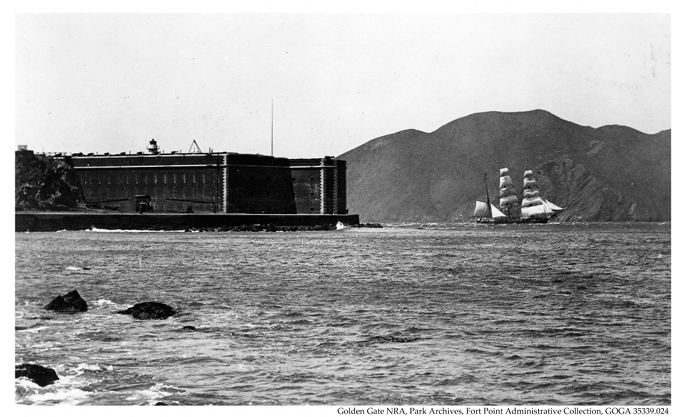 Point of Inquiry transports students to Gold Rush Fort Point to imagine another time and place. Through both individual and small group work, students use primary sources such as historic photographs, artifacts, and maps to place the fort in its historic context. At Fort Point, students investigate and pose information questions and questions for deeper meaning as they construct their own interpretation of the significance of Fort Point when San Francisco emerged as the commercial hub of the West Coast.
Point of Inquiry is co-sponsored by the Presidio Community YMCA. Following the investigation of the fort, YMCA staff takes students on a hike where they practice Leave No Trace and experience a national park as a place for recreation.
Point of Inquiry uses the Understanding by Design framework, incorporates Common Core Standards and Standards for Literacy in History/Social Studies.
Please click here for the Point of Inquiry Understanding by Design grid.
Program Description
Point of Inquiry is framed by the Essential Question – "How does a building reveal what is valuable to us?"
Point of Inquiry is structured in three parts:
Classroom preparation – lessons delivered by the teacher, NPS staff, and YMCA staff with resources provided by the park
Field session – the fort experience in which students investigate the fort and construct their own interpretation
Classroom Assessment – opportunities for students to demonstrate what they have learned through essays based on evidence gleaned from primary sources and the fort visit
Download the Point of Inquiry curriculum.