Planning a Place-based Inquiry Experience for Teachers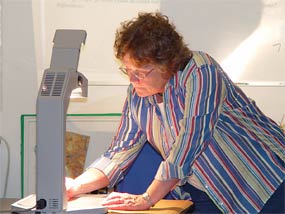 Kathleen O'Sullivan, Ph.D., Secondary Science Methods Instructor
San Francisco State University
Introduction
When we set out to create the Rockin' in the Riprap program, my team members and I were required to make a number of assumptions and experiment with approaches. This article is, in essence, a report on our efforts and their outcomes, and a blueprint that can be used by those who work as professional development providers—methods instructors for pre-service science teachers or individuals offering training for in-service teachers—to craft programs specific to their needs.
Included here are the rationale for using a field/place-based experience, the incorporation of inquiry, our planning approach, and the logistics involved. General explanations of these sub sections are illustrated by specific examples from the Rockin' in the Riprap program at San Francisco's Crissy Field; recommendations based on this experience are also offered.
Rationale
Developing a field/place-based experience for pre- or in-service teachers is time-intensive. Initially, I was concerned that the experience would not fit within the constraints of a once-a-week, three-hour class, and that it would not be practical to offer it on a weekend, since participants would also be taking a full class load and meeting personal obligations.
However, upon closer examination and discussion with team members, I realized that a field/place-based experience would enhance mutual existing goals and objectives. Based on California's professional development standards as well as the National Science Education Standards (National Research Council 1996), these include an understanding of science as inquiry (both theoretically and in the classroom), laboratory teaching, instructional planning, and teaching to science standards. Enhancement of the participants' content knowledge and promotion of their future use of the experience rounded out the list of reasons to pursue this approach. The development team readily agreed to the inquiry aspects, although the actual incorporation was challenging (see the Inquiry section below). The team also agreed to focus on state content standards for students.
Place-based teaching is very similar to laboratory work in that both are hands-on and, ideally, minds-on; both involve pre- and post-activity elements; and both can enhance students' abilities to perform an investigation and to understand the theories behind it. The written plan for the experience is provided to and discussed with participants to further their understanding of instructional planning (short and long versions of the plan are included in the Outdoor Labs and Pre-Service Science Curriculum section).
Once potential field sites were identified, we examined and selected those that could be readily accessed and designed the experience around them. In making our selection, we also took into consideration the issue of enhancing participants' content knowledge; geology was selected in part because few had any educational background in this subject. We also kept in mind the ways participants might be able to use field/place-based experiences with their students, and encouraged them to do so by making them aware of existing resources (park sites and their offerings) and sources of financial support.
Recommendations
Give careful thought to how a field/place-based learning experience meshes with overall goals. While they can be enjoyable in and of themselves, time is a limited commodity. For example, we were also able to use the Rockin' in the Riprap experience in a six-day workshop on astrobiology for in-service teachers because it fit with the workshop's inquiry and content ("Changes in the Earth") goals.
This section begins with my concerns about time, and indeed, the issue was an area of intense negotiation (see more in the Planning and Logistics sections). We were fortunate to have external support for planning the experience, but this preparatory time must also be taken into consideration.
Inquiry
The National Science Education Standards (National Research Council 1996) emphasizes inquiry not only in teaching science but also in the professional development of teachers. As mentioned in the Rationale section, the team readily agreed to an inquiry approach. While I have found that generally, individuals involved in curriculum development and the professional development of science teachers are supportive of this type of approach, not everyone understands what is involved in creating and carrying it out.
The grid, Essential Features of Classroom Inquiry and Their Variations from Inquiry and the National Science Education Standards, is, in my opinion, an invaluable tool. It illustrates the variables involved in each feature of the inquiry process (engaging in scientifically oriented questions, giving priority to evidence, formulating explanations, connecting explanations to scientific knowledge, and communicating and justifying explanations), depending on whether the learner is self-directed or guided by the teacher or the material. For example, is the question provided or does the learner pose it? Is the evidence provided or does the learner collect it?
Comparison of our project to the inquiry grid revealed that the essential features were present, though each varied in terms how learner-directed or teacher/material-directed they were. The materials provided the essential question: "How do I recognize evidence of geologic change in my environment?" and the instructor led students to the more immediate question: "Where do the riprap rocks come from?" Participants collected evidence and recorded their observations of the riprap rocks, and additional information was provided in the form of photos, descriptions, and names of the rocks, as well as maps of where the rocks came from. Data sheets supplied questions that helped participants formulate explanations of how the rocks came to be in their present locations. After offering their explanations about the evidence of geologic change, a participatory lecture—I Have Tectonics—helped them connect the evidence to plate tectonics.
Team members spent a significant amount of time determining the amount of background information that participants needed in order to be able to formulate explanations. I wanted the experience to be as learner-directed as possible, while others felt that minimal background was required. Ultimately, based on the first class's experience and their feedback, we provided little background for the initial part of the experience (examining the riprap) and then provided additional information (e.g., rock descriptions and maps) and more specific guiding questions for the second part of the experience.
To date, most of those who have participated in this training have not had a strong background in geology, and even some who did were not familiar with the local evidence and its connection to plate tectonics. It can be challenging for professional developers to create true inquiry experiences. In this case, while participants have not always been successful in providing complete explanations, they have been able to assemble at least some of the evidence into partial explanations. The participatory lecture and discussion help them visualize a more complete explanation of how plate tectonics influenced the Franciscan Complex, which is the source of much of the riprap.
In the methods course, the framework includes a pre-lab portion that orients and prepares students for the laboratory, a laboratory portion that explains what the teacher and students do during the hands-on portion, and a post-lab portion that assists students in understanding their experiences. We used this framework to develop Rockin' in the Riprap, and it was then modified slightly to accommodate field/place-based experiences.
For details, see the lesson plan (short or long version); print materials are provided in the Geology Resources section. There are references within the plans to the data and information sheets used by the participants as well as to the materials used by the instructors, e.g., the pre-lab PowerPoint presentation, Magic Windows, and images used during the participatory lecture. These, too, are provided.
Recommendations
In planning your field/place-based experience, take into consideration the essential features of inquiry, your students' prior knowledge, and your own understanding of the phenomenon to be investigated. Keep in mind that classroom teachers rarely have an opportunity to allow totally student-directed inquiry, and don't insist on that for your participants.
Look first to the evidence that is available and accessible; participants should be able to collect at least some of it firsthand during the field/place-based experience. For help in identifying the information—and for help in understanding it yourself—talk with scientists who are familiar with the site. Remember that a lot of what we ourselves were taught didn't involve an understanding of the evidence behind it. You may have to dig deeper for a more complete explanation: "How do you know that from what you observe? How is the evidence connected to the explanation?"
You will also want to consider your participants' prior knowledge. If the evidence and explanation are already known, the experience may be worthwhile but it won't constitute inquiry. However, a degree of prior knowledge will probably be needed; take time to identify what it is and whether it is reasonable to expect participants to have it. Finally, some participants may have considerable understanding of the phenomenon under investigation. We looked at college majors and/or teaching specialties, and grouped those with more background together; we also asked them not to "give away" the answer.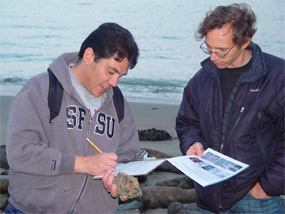 Planning
Contributing to the professional development of beginning science teachers is one of the goals of the National Park Service (NPS). When the Toyota USA Foundation offered to support this goal, Golden Gate National Recreation Area (GGNRA) Educational Specialist Lynn Fonfa contacted me to see how we might work together. In our early discussions, we explored our individual needs and current efforts, and identified our general objectives for a field/place-based experience. At this first meeting, the issue of time as a constraining factor was raised, as the experience would need to take place within the regular class meeting time.
After meeting other park personnel and examining potential outdoor sites, Lynn and I decided to focus on a geology-based experience. This was in part determined by the expertise of available park personnel; it also satisfied my desire to incorporate geology into my methods course. Ultimately, in addition to Lynn and I, the planning team comprised Will Elder, a park ranger with a doctorate in geology, and Roxi Farwell, a park ranger with many years of experience working with teachers and students, both in the field and in classrooms. When funding from the Toyota USA Foundation came through, we added an educational assessment specialist, Dr. Susan Schultz, Vice President for education with the Yosemite National Institute (now with Stanford University).
In a series of meetings, we clarified individual goals and needs and developed a short list of overarching goalsas well as the first version of the essential question to be addressed. Accessibility was also an issue, both in terms of travel time to and from the site and in safety and access for physically impaired participants (see the Logistics section). One it was established that Crissy Field, a GGNRA site, met these criteria, the team investigated the site's geological possibilities, which included rocks that were part of the riprap used by the army to protect the shoreline from erosion.
While these decisions sound straightforward, in actuality, considerable negotiation was involved in reaching them. For example, the use of riprap rocks and their "unnatural placement" at Crissy Field needed to be addressed. Outcroppings of the Franciscan Complex are accessible in nearby Marin County, and well-developed field/place-based experiences for teachers and students have been conducted successfully there for many years. Naturally, GGNRA team members felt that my students would have a more authentic experience at that location. From my point of view, travel time required to get to the headlands and back again would at least double the class's duration; this would create conflicts for those students who had classes immediately before and/or after the 4-to-7 p.m. class time). And, since this was a fall class, reduced hours of daylight would shorten field time. Finally, the bridge toll, a hefty $5, was a barrier. Logistics won out.
The "unnatural placement" of the riprap rocks was also a concern, but once we decided to stay at Crissy Field, it was a concern we found a way to deal with. We expected class participants to realize that the rocks had been artificially deposited there and, given their significant mass, were probably local. Upon closer examination of the rocks on site, we realized that some "seeding" would be needed to present the full range of rock types. We also had students look at outcroppings of some of the Franciscan rocks observable from the riprap, using a variation of the Magic Windows (see the Teaching Techniques and Tools section).
Finally, we modified the original version of the question, from "How do I recognize evidence of change in my environment?" to specify geologic change.
At this point, it was time to construct a lesson plan. As I wanted to use the laboratory framework of pre-lab, lab, and post-lab, I developed an initial draft for discussion. The first plan included a pre-lab PowerPoint presentation (assembled by Will) that oriented students to the site, posed the essential question, and reviewed directions and safety. For the lab and in the field, we planned to have participants observe and describe both riprap rocks and local sand, followed by a visit to the Crissy Field Center lab, where they would match their descriptions to samples in the lab's collection. During the post-lab, a brief discussion and participation in an explanatory lecture,I Have Tectonics, would wrap up the session.
Though feedback from the first set of participants was generally positive, we had doubts about exactly how much they had learned from the experience. We were also dissatisfied with the amount of content (too much) and the overall flow (connections among the parts of the experience were missing). We decided to drop the sand element, cut back on the number of standards to be addressed, add to the participants' pool of information with images and brief descriptions of the conditions and locations of the rocks, and include the essential question on all print materials used by the participants. The directions and guiding questions on the data sheets, and the amount of time for discussion were also modified.
The second group, in-service teachers, several of whom had geology expertise, gave the program rave reviews: "I live in New York—can you send me a set of rocks and materials so I can do this with my students?" With each group, we further honed our approach and techniques. For example, we now provide more samples of each rock type to illustrate differences due to weathering, and explicitly discuss the inquiry features. (In the future, participants will receive a copy of the short plan, which they can compare to the instructional checklist for laboratory and field teaching.)
Most recently, we've met with local advisory boards and colleagues and shared our experiences with them. Ongoing support from both GGNRA and my department chair and dean have made the Rockin' in the Riprap experience an integral part of the science methods course, even though it is now taught by someone else. We hope that by including geology faculty in one of these meetings, similar experiences can be developed for undergraduates in geology courses.
Recommendations
The instructional experience must meet the goals of all parties concerned. It will take time, negotiation, and flexibility to develop mutually agreed upon goals and to accommodate the specific needs of all involved. Each team member should have expertise related to an aspect of the project, and all members should be willing to learn from one another. Develop a planning timeline and tasks and involve everyone in the process. Articulate all the details—for example, be sure everyone knows who's responsible for materials and equipment getting to the site. Limit the content goals and allow time to discuss the inquiry and other instructional features. Plan for participant feedback on both the subject matter and the way in which it is presented. Then, use the feedback; the first trial may not be the best, but with adjustments, it can probably be improved so that the experience is worth doing again. Finally, spread the word and build long-term support.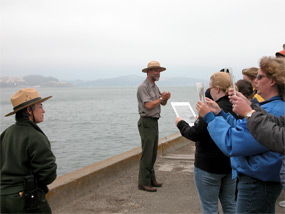 Logistics
Dealing with logistics is certainly part of planning but is treated separately here in order to cover aspects that do not relate directly to the educational experience itself.
Time
Time available for any professional development is limited, and field/place-based training is no exception. Among the things that need to be established early in the planning phase is whether or not the goals under consideration merit the time involved to meet them. Also, planning beyond goal setting takes time—we found that both telephone conferences and e-mail were workable alternatives/supplements to face-to-face meetings.
Site Hazards
Site hazards should be pointed out to participants and recommendations for avoiding them gone over in the orientation. As noted, the site we selected was not the best in terms of the "reality" of the geology, but it did mean at least an hour less of travel time. We also did not use nearby rock outcroppings because they were not accessible to persons with mobility impairments (I considered them too challenging even for the able-bodied). We instructed participants to wear closed-toe shoes suitable for walking on the rocks and to bring a jacket. We also made sure we had a cell phone with us as well as someone who could give directions to our location.
Regulations and Requirements
Most institutions require field trip participants to indemnify them against accidents, etc. This is the case whether transportation is provided or participants travel to the site independently. SFSU also requires that a list with emergency contact numbers for participants be prepared; one copy is taken on the trip and another is turned in to the appropriate departmental office. As part of the planning process, be sure to check your institution's requirements.
Assessments and evaluations may be used only by the immediate team or may be shared with others, e.g., a larger agency or the funding institution. If it is shared, approval for human-subjects research is required under the terms of the US National Institutes of Health. Because our team knew we would at least share information with GGNRA, the National Park Service, and the Toyota USA Foundation, we prepared a protocol and associated documents (consent form and assessment instruments) and received approval from my institution's (SFSU's) Office for the Protection of Human Subjects. Your team should determine from whom similar approval should be sought.
Depending on the training venue, there may be restrictions on the use of animals and the collection of plants, animals, and artifacts. A few rock hounds were quite disappointed when they found out that they could not collect samples in a national park.
A Final Note
While this may seem to be a tale of trials, tribulations, and obstacles, I can honestly say that the resulting experience has been and continues to be worthwhile. The fieldwork excites and energizes participants, they achieve instructional goals, and several of the pre-service participants have already taken their own students on a similar field experience and/or used elements of the Rockin' in the Riprap experience in their classrooms. I encourage everyone involved in this type of work to consider a field/place-based experience as part of his/her professional development.