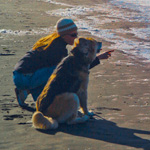 Dog Management Planning
The NPS-wide pet regulation (36 CFR 2.15) requires dogs to be restricted by cage or on leash. Golden Gate National Recreation Area has been undergoing a planning effort for the past 12 years which would allow dogs to be off leash, under voice control in seven popular locations, as well as dozens of areas where dogs can be walked on leash. The plan is expected to be finalized by winter 2015. Click here for more information .
Interim Permit Requirement for Commercial Dog Walkers
IAs of June 2, 2014, a permit is required for commercial dog walkers operating within Golden Gate National Recreation Area lands in San Francisco and Marin counties with four to a maximum of six dogs at a time. For details and to apply visit http://go.nps.gov/commercialdogpermit
The NPS has updated the General Management Plan (GMP) for the Golden Gate National Recreation Area and Muir Woods National Monument. This GMP sets out the general vision for these lands over next 20 years. It continues the strong tradition of recreation and connecting people with the natural and cultural resources they hold.

It's been more than 30 years since the original GMP was put in place. Since then, the park has more than doubled in size and visitation, the ecological and historical importance of its resources has become better understood, and new properties have been added in San Mateo County.

For more information or to download a copy of the document go to http://go.nps.gov/GMP

>
Freedom of Information Act (FOIA)
The Freedom of Information Act (FOIA) is a federal law that gives you the right to access any Golden Gate National Recreation Area, National Park Service (NPS), or Department of the Interior (DOI) records unless DOI reasonably foresees that the release of the information in those records would harm an interest protected by one or more of the nine exemptions (reasons an agency may withhold records from a requester) or release is prohibited by law.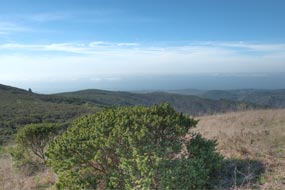 Interim Trail Plan for Rancho Corral de Tierra
The National Park Service is developing an Interim Trail Plan for Rancho Corral de Tierra (Rancho) in San Mateo County. This project will establish the official trail plan for Rancho until a Long-range Trail Master Plan is completed in the next three to five years. The Interim Plan will confirm uses including hiking, bicycling, and horseback riding, for the designated network of existing trails. The plan does not address or regulate dog walking activities and defers to the Dog Management Plan.
A complete description of the proposed plan and map can be found at http://parkplanning.nps.gov/ranchotrailplan document list.

Muir Beach Restoration Project is complete!
The Muir Beach restoration is a landscape-level coastal restoration project designed to bring back natural function to the creek, freshwater wetlands, intermittent tidal lagoon and dunes over a 46-acre site at the mouth of one of the iconic watersheds in the Bay Area. The project has also enhance visitor amenities at the parking lot and picnic area, create interpretive opportunities such as waysides and self-guided hikes, and improve regional trail links.
Firearms In National Parks
As of February 22, 2010, a new federal law allows people who can legally possess firearms under applicable federal, state, and local laws, to legally possess firearms in this park.
It is the responsibility of visitors to understand and comply with all applicable state, local, and federal firearms laws before entering this park.
Visit our
Laws and Policies section
for additional information.

Coyote Alert—Marin Headlands
Recently, coyotes have been observed frequenting roadsides and pullouts, and even approaching cars, in the Marin Headlands of the Golden Gate National Recreation Area. This behavior is consistent with coyotes that are being fed.

Climate Change
"Earth's climate is changing, with global temperature now rising at a rate unprecedented in the experience of modern human society."
-Arctic Climate Impact Assessment, 2004

GGNRA Centennial Programs & Projects
Find out more about which programs and projects the park has submitted for the Centennial Strategy 2016.