Clara Barton National Historic Site and National Park Service office at Glen Echo Park winter hours

Both sites will begin their winter hours of operation 10:00 a.m - 4:00 p.m. daily Wednesdays - Sundays starting Saturday, December 29, 2013 through March 22, 2014. Glen Echo Park Partnership and co-operators will not be affected by these hours.
Ranger-led Programs and Activities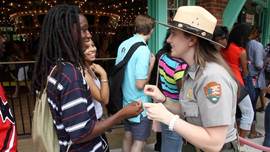 In addition to the times listed below, you may make a reservation for any of the programs for weekdays or at other times on the weekend (if staffing permits). To make arrangements, call the National Park Service at 301-320-1400.
All ranger-led programs and activities are free!
Glen Echo Park Carousel Tour
Meet at carousel.
Saturdays and Sundays
May - September at 10:30 am
October - April at 2:00 pm
Where are the carousel's "windows to the past"? How many carousels are protected by the National Park Service? Do you know the difference between a merry-go-round and a carousel? Find out the answers to these questions and much more!
Park History Tour
Meet at Candy Corner Information Center.

By reservation only. Call 301-320-1400.
How many people could swim in the Crystal Pool at one time? How did Glen Echo become part of the National Park Service? Explore Glen Echo Park's history on this tour and find out the answers to these questions and more!
The Civil Rights Story of Glen Echo
Meet at Civil Rights plaque in front of carousel.
At 12:30 pm on Sunday, June 29, 2014 - Civil Rights Commemoration Day

This program will explore the Civil Rights issues at Glen Echo Amusement Park and the surrounding area in the early 1960s.
**Program times and dates are subject to change. Please call 301-320-1400 for questions or information.